Exclusive
EXCLUSIVE PHOTOS: Lionel Richie's House Gets Party Ready As Nicole Richie Wedding Looms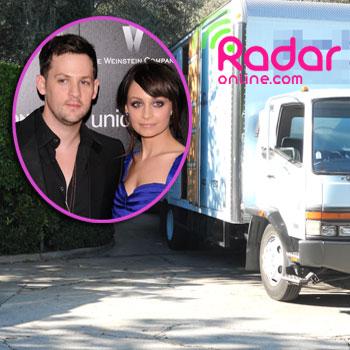 Nicole Richie and Joel Madden have remained tight-lipped about their impending nuptials, but many expect them to tie the knot at the Beverly Hills mansion of Nicole's dad Lionel Richie. As anticipation of their big day hits a frenzied pitch thanks to rumors of an early December ceremony, RadarOnline.com noticed a lot of party preparing action at Lionel's house on Tuesday!
There were two party rental trucks spotted going to and from the residence as a body guard and one cop from the Beverly Hills police department looked on. One thing guests at the shindig can expect: a lot of dancing.
Article continues below advertisement
"A stage is being built over the pool in the backyard so the guests will have more space to dance," a source told RadarOnline.com exclusively.
"It's kind of cool because people will be dancing on top of the water."
Another source added that the party seemed to be mostly outdoors with a lot of white patio-like furniture with white marble table tops. Some furniture will be indoors as well.
While many details of the wedding remain under wraps, some guests surely on the list are Samantha Ronson, Richie's pal Masha Gordon, Richie's hair dresser Andy Lecompte, and Christina Aguilera.