Michael Moore Donates $20,000 To Bail Out WikiLeaks Founder Julian Assange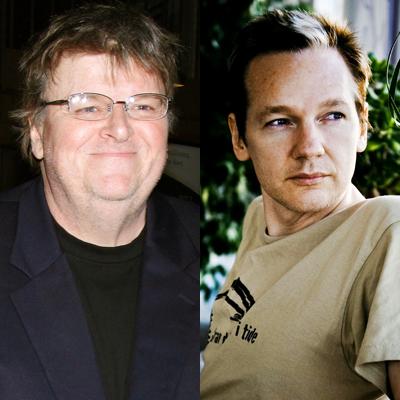 Documentary filmmaker Michael Moore just gave a whopping $20,000 of his own money to help post bail for WikiLeaks founder Julian Assange, RadarOnline.com has learned.
Inside The WikiLeaks Scandal: Who Is Julian Assange?
On Tuesday, Moore went to his website and expressed why he's backing Assange:
"Yesterday, in the Westminster Magistrates Court in London, the lawyers for WikiLeaks founder Julian Assange presented to the judge a document from me stating that I have put up $20,000 of my own money to help bail Mr. Assange out of jail. Furthermore, I am publicly offering the assistance of my website, my servers, my domain names andanything else I can do to keep WikiLeaks alive and thriving as it continues its work to expose the crimes that were concocted in secret and carried out in our name and with our tax dollars."
Article continues below advertisement
Filmmakers Ken Loach and John Pilger and writer Jemima Kahn joined Moore in the contributing to Assange's bail fund, Moore said.
As RadarOnline.com reported Tuesday, a judge agreed to set bail at 20,000 pounds ($315,000) for WikiLeaks founder Julian Assange, who
could be freed from custody at any time.
In agreeing to set bail, the judge said that Assange must abide by strict bail conditions as he fights extradition to Sweden in a
MORE ON:
Celebrity Justice
sex-crimes investigation.
Assange, 39, has been held without bail in a London prison for a week after surrendering to Scotland Yard police to answer a Swedish arrest
warrant.
A decision on whether to extradite Assange is expected to take several weeks. Both Assange and the Swedish government are entitled to appeal against the ruling if the judge rules against them.
RELATED STORIES:
BREAKING NEWS: Judge Sets Bail At $315,000 For WikiLeaks Founder Julian Assange