Exclusive
EXCLUSIVE: Teen Mom Amber Portwood Wants Ex-Fiance Back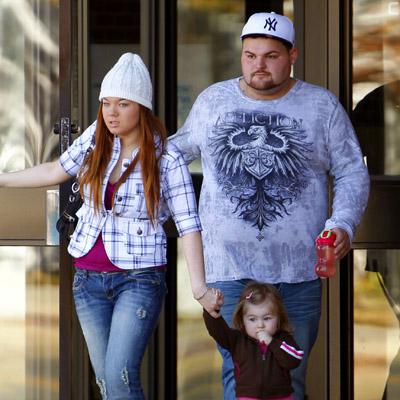 Violent Teen Mom Amber Portwood wants her baby daddy back following a courtroom heart-to-heart with the long suffering MTV star, pals have exlclusively told RadarOnline.com.
Portwood, 20, is desperate for them to get back together and has admitted she still loves Shirley, 24, the father of little Leah, but Gary has moved on for now.
"She wants him back. But he's not doing it again," a source told RadarOnline.com.
Article continues below advertisement
The pair split at the start of November after a series of blowouts, including one -- in which Portwood repeatedly punched and slapped her 260-pound fiancé -- leading to criminal charges and a child protective services investigation.
One of her pals said: "Amber had told Gary she would like to work it out, but he is reluctant. She was kissing him and saying, 'Maybe we can work this out, maybe we can fix this, maybe we can get back together'."
RadarOnline.com first revealed how Gary and Amber appeared extremely friendly toward each other at the emergency hearing in Anderson, Indiana, last week, when their two-year-old daughter was made a ward of the state.
While Portwood was this week reunited with Leah, the child has been deemed a "ward of the state" because her living situation is still being assessed by the Indiana Department of Child Services (DCS).
Article continues below advertisement
"It was a really emotional setting when both of them were at court," said an insider.
"They were really sad and she was holding his hand and crying and Gary was holding her. They love each other, but they're so wrong for each other."
Portwood has been spotted recently with a 20-year-old mixed martial arts cage fighter, Clinton Yunker, embracing and kissing in front of MTV's cameras.
The 20-year-old mother-of-one was charged with domestic violence earlier this month after an aggressive assault on Shirley was caught by MTV cameras while Leah stood at her feet.
"Gary feels really bad for her," said our source.
"He is contemplating getting back together with her, but he knows it's not the right thing to do. There have been several times that Gary has said; 'I love her, she's the mother of my child.'
"He doesn't want her to beat him anymore... but if it can work, he loves her. But he doesn't see that happening until she gets help.
"He's moved on and likes being single."