Exclusive
EXCLUSIVE PHOTOS: Snooki Busted Smoking Mystery Joint-Like Cigarette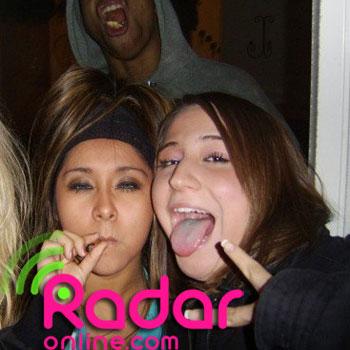 Whatcha smokin' there, Snooki?
Before her hard-partying ways were broadcast to the world on MTV's Jersey Shore, Nicole "Snooki" Polizzi was no stranger to a good time, as evidenced in these exclusive photos obtained by RadarOnline.com.
"These pictures were taken during winter break in 2007 when Nicole was 20-years-old," a source close to the reality TV star told RadarOnline.com.
"We were at a friend's house for a going away/get together party for a friend's last night in New York before leaving for college."
Article continues below advertisement
In one photo, Snooki is puffing on a mystery joint-like cigarette, holding it much the same way one would when smoking marijuana.
In another image, Snooki is surrounded by beer bottles while posing with her friends on the couch.
In perhaps the most revealing photo, Snooki is stripped down to her black bra and showing off her blue contact lenses for the camera.
The pint-size star has come a long way since attending house parties in New Jersey, earning up to $11,000 an appearance, as we previously reported.