Exclusive
EXCLUSIVE INTERVIEW: Snooki's Jersey Shore Co-Stars 'Toxic; Says Book Author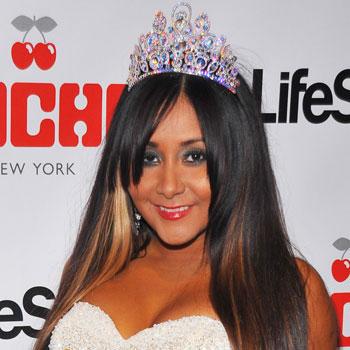 Jersey Shore's Snooki just read the book Toxic Men and is recommending the read via Twitter, claiming it "got her away from losers."
But RadarOnline.com has learned that the pint-sized reality star might still have some more cleaning house to do.
In an exclusive interview with RadarOnline.com, Lillian Glass, the author of Snooki's new favorite book, weighed in on all of MTV's Jersey Shore men.
"At this point Snooki seems to be on the right track by keeping her newest boyfriend under wraps, making sure he is consistent in his behavior and treats her with respect," Lillian Glass author of Toxic Men explained.
Article continues below advertisement
"But toxic men do not have to be your boyfriend, they can be any men you choose to have in your life."
And with the 4th season of Jersey Shore in negotiations, it looks like Snooki will be living with the same entourage of men from the first three seasons and Glass reveals that some of those men are toxic.
Glass refers to Mike The Situation Sorrentino's behavior on the show when he kicks women out of the house that won't "smush." She surmises that "he was probably rejected quite a lot by women before the show. This has become pay back time for him."
However, one man seems to pass muster: "Pauly D has an appreciation and respect for women that Mike doesn't have, he deserves the attention he gets from women. He is lovable and likable and it all stems from his upbringing. He must really love his mom."
The author also reveals that Pauly D was never really Mike's wingman, it was always the other way around.
With Vinny Guadagnino, Snooki has had a hard time drawing a line between friend, boyfriend and brother. Glass tells RadarOnline.com that Vinny is questionable.
Article continues below advertisement
"He obviously was ashamed about sleeping with Angelina so he tried to turn things around because he was embarrassed. He is a control freak, a real toxic man."
Glass moved on to Ronny and included Sammy in her explanation. She described the pair as a lethal combination that needed to get away from each other.
"The older they get the worse it will get and they should just break it off now.
"They are horrible together, and he is a cheater and if he was with the right person it might be faithful.