VIDEO: Jersey Shore Cast Talks About Regrets During Rise To Fame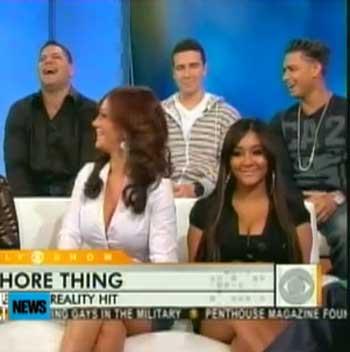 The Jersey Shore cast appeared on the CBS Early Show to promote the show's season finale which airs Thursday and reflect on the show's sophomore season that saw the now-famous Garden State hellraisers bring their GTL swagger to South Beach.
With all of the hook-ups, run-ins, and drunken nights, some of the cast members, such as Vinny Guadagnino, admitted there were some instances they wish had been left on the cutting room floor.
Article continues below advertisement
"I had a couple sloppy nights... one with Angelina," he joked, referring to his televised tryst with now-departed housemate Angelina Pivarnick.
Pauly D said he was fine with how he came off and that the show at succeeds at putting the reality in reality TV.
"I'm glad the way I came off on the show," he said. "They made me look exactly the way I was. There's no script. I don't really have any regrets. They make you look exactly the way you are. That's the best part about it- we're just doing what we're normally doing anyways."
From their routine appearances on late night shows to red carpets to a number of outside business endeavors, it's clear the cast has fist-pumped its way to the top of the pop culture mountain, and shared what it's like to go from obscurity to fame within a year's time.
"I think it's amazing; I think we're all truly blessed," Sammi "Sweetheart" Giancola said, while Snooki added, "It's crazy. We can't even go get a coffee or go shopping without people freaking out."
Article continues below advertisement
Burly Ronnie Magro said it best in describing how they're all getting used to the celeb life as the show continues gaining momentum.
"It hits you when you do morning shows, talk shows, movie awards," Ronnie said. "This is my life now. A year ago we were doing normal jobs or going to school."
The season finale of Jersey Shore airs on MTV Thursday at 10/9c.
RELATED STORIES:
EXCLUSIVE: 'Jersey Shore' Scandal: Naked Snooki Photo Released