EXCLUSIVE PHOTOS: Sexy Russian Spy Anna Chapman's Playboy Pictorial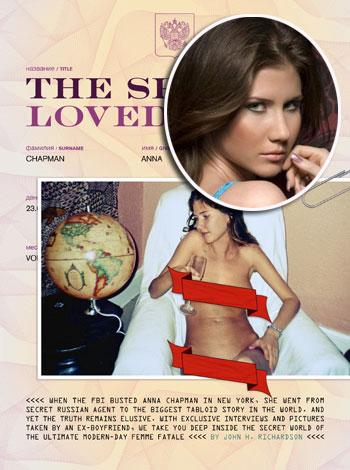 Anna Chapman, the sexy Russian Spy who was arrested in June by the FBI and soon traded back to her home country, is featured in an upcoming pictorial and article in the January issue of Playboy Magazine.
The nude photos, taken by one of Anna's ex-boyfriends, and the accompanying article (written by author John H. Richardson, whose father was a high-ranking CIA agent) chronicles her finals days in New York and reveals details of the case against Chapman.
Article continues below advertisement
Robert Baum, Chapman's attorney, was interviewed among others and revealed why she pleaded guilty. "I can tell you I know Miss Chapman pleaded guilty, and I'm not saying she lied. But she was held in a cell for 23 hours a day with no TV and no newspaper. Her only visitor was me, and I saw her through a glass partition. The thought of having that continue for six months to a year while she was awaiting trial was unbearable."