Australian Store Removes Racist Dolls In Advance Of Oprah Visit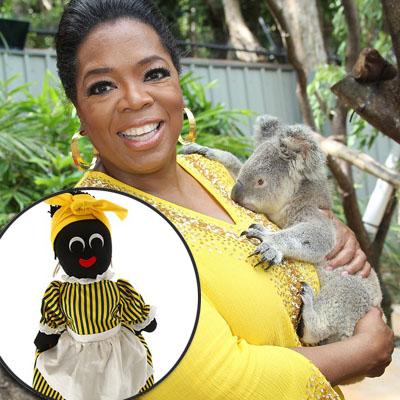 Talk show queen Oprah Winfrey's trip to Australia has stirred-up a racism controversy over a "Mamee" washer woman style doll, Radaronline.com has learned. A doll shop in Melbourne withdrew the golliwog style dolls from its display window after a visit by Oprah's production company.
The Dafel Dolls and Bears Shop will stage a cocktail party for 110 of the American superstar's guests on Friday evening.
Article continues below advertisement
The store's owner would not comment on the situation because they had signed a confidentiality agreement with Oprah's Harpo Productions.
But they did confirm that a meeting had taken place between the two parties.
"Oprah's people came ... and yes it was discussed," a source familiar with the agreement told the Australian Herald Sun newspaper.
Ironically, despite removing the 'Mamee' washer woman dolls, the store will continue to display other golliwog dolls.
It's understood that her representatives did not think that the washer woman doll was politically correct and seemed inappropriate considering Oprah's international status as a pioneering black entertainment figure.
Winfrey kicked off her 25th and final season of The Oprah Winfrey Show in September by surprising her audience for what she's billed as Oprah's Ultimate Australia Adventure.
The hand-picked audience was comprised of the show's most loyal viewers over the years.
Article continues below advertisement
John Travolta made a surprise appearance on that show, as Oprah announced he would be personally piloting one of the planes. He ended up having to cancel because of the recent birth of his son Benjamin.
Winfrey -- who flew by private jet to the land Down Under -- traveled separately from her 300 audience members who arrived earlier Tuesday in Sydney.
During her trip to Australia, she'll be taping three shows, two of which are expected to be taped on December 14 at the famed Sydney Opera House. A third show will document her and the audience's travels around the country.