PHOTOS: Michael Douglas; Looking Good On The Road To Recovery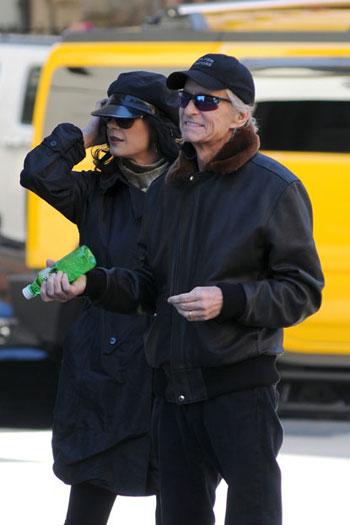 When Michael Douglas received the devastating news that he was suffering from throat cancer, he vowed to fight the debilitating disease.
But when he was photographed looking tired and gaunt shortly after treatment, his fans and the media feared the worst.
Now RadarOnline.com can reveal that after two months of treatment, the star is finally on the road to recovery with new photos showing that the actor is starting to look like his old self again.
Article continues below advertisement
"The fact that he is gaining weight means that he is likely in the recovery stage," Dr. Kent Holtorf told Star Magazine about the actor, who is believed to have lost more than 40 pounds since getting sick.
"The extra pounds have smoothed out some of the wrinkles so he is looking younger and healthier.
"He has pigment in his skin which is a great sign that he is eating more and feeling better."
And no doubt the 66-year-old was thrilled to celebrate his 10th wedding anniversary with his wife, Catherine Zeta-Jones, on November 18th.
MORE ON:
Catherine Zeta-Jones
Douglas was diagnosed with stage-four throat cancer in August and while reports were grave as to the seriousness of the condition at the time, his father, Kirk, gave fresh hope for his son last week when he announced he is on the mend.
The legendary actor said his son was feeling 'feisty' again and is also getting his appetite back.
RELATED STORIES:
Judge Rejects Michael Douglas' Ex-Wife's Bid For 'Wall Street' Pay