PHOTOS: Bikini Babes At Every Age!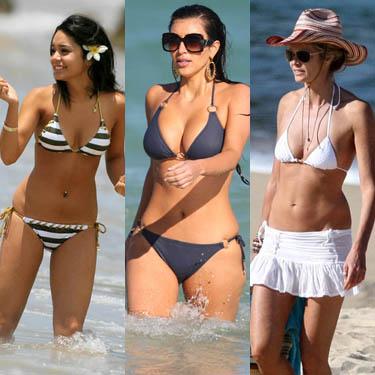 Whether carrying around their very first driver's license or an senior citizen's discount card, these stars have one thing in common: their ability to rock a bikini in sexy style!
RadarOnline.com has compiled photos of bikini babes at every age, from sweet sixteen starlets to icons in their golden years.
They may not be old enough to drink, but Taylor Swift, Miley Cyrus, Selena Gomez and Ali Lohan are certainly experienced beachgoers.
Article continues below advertisement
While Disney stars Miley and Selena opt for slightly skimpy swimwear, Taylor keeps to her signature, sophisticated style, wearing vintage-style high-waisted bikinis on the beach!
When it comes to sexy style, 20-somethings know how to make a splash in the sea!
From 22-year-old's Rihanna and Vanessa Hudgens, to nearly 30-year-old Jessica Alba, these hard-bodied stars love to show off their fat-free figures in sizzling and sexy bikinis.
Stars like Penelope Cruz, Reese Witherspoon and Angelina Jolie may be in their dirty thirties, but they aren't letting the passing years get in the way of their covetable curves.
We can't believe that the highest paid supermodel in the world, Gisele Bundchen, turned thirty this year!
The wife and mother is making more money the older she gets, defying the reputation of the modeling industry.
If you want to look fabulous in your forties, take some pointers from stars like Halle Berry, Jennifer Aniston and Sandra Bullock. These bikini babes have nothing to hide when it comes time to strip off their designer duds and into their barely-there bathing suits, because they eat right and hit the gym!