Exclusive
EXCLUSIVE: 'Raising Sextuplets' Dad Offered Plea Agreement, Escapes Jail Time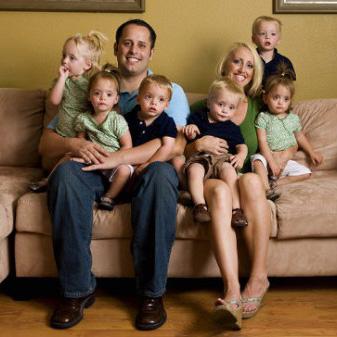 Bryan Masche, the father of WeTV's Raising Sextuplets, has been offered a plea agreement in his domestic violence case that would keep him out of jail, RadarOnline.com has exclusively learned.
EXCLUSIVE PHOTO: The Smiling Mug Shot Of TV's 'Raising Sextuplets' Dad
The reality TV dad is scheduled to appear Thursday in Camp Verde Municipal court where he faces domestic violence and resisting arrest charges stemming from a verbal altercation with his wife and co-star, Jenny, this past September.
Article continues below advertisement
A source close to the case tells RadarOnline.com that Masche has been offered a plea agreement and he will enter his plea at the pretrial hearing scheduled Thursday.
Per the terms of the agreement, Masche would plead guilty to two misdemeanor charges - threatening and intimidating per domestic violence and disorderly conduct per domestic violence.
EXCLUSIVE AUDIO: Hear The 911 Calls Leading To 'Raising Sextuplets' Dad's Arrest
If he accepts the plea offer, the reality star would be required to take parenting classes and mandatory individual counseling but would avoid jail time.
In addition, Masche would be given a deferred sentence, meaning if he completes the terms of the plea agreement and obeys all laws for 12 months, the domestic violence charges would be dismissed.
As RadarOnline.com first reported, Bryan Masche was arrested on September 11 in Arizona on charges of domestic violence and resisting arrest following a family bust-up, in which he allegedly shouted profanities at his wife Jenny in front of their children and threatened to "flatten" his father-in-law.
Article continues below advertisement