EXCLUSIVE INTERVIEW: Pink Told Ellen She's Pregnant - Before She Told Her Own Dad!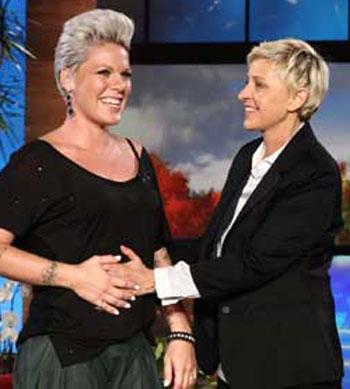 Pink told Ellen DeGeneres that she was pregnant  -even before she told her own father!
RadarOnline.com actually broke the good news to  Pink's dad, 65-year-old James Moore, Wednesday morning when we innocently called to congratulate him on the happy announcement.  (Oops!)
The famous singer proclaimed that she and husband Carey Hart were expecting their first baby together while taping an interview with Ellen on Tuesday. The interview airs  Wednesday.
Article continues below advertisement
Amazingly, former Vietnam veteran James – who taught his daughter how to sing – still did not believe the happy baby news.
Speaking from his home in Pennsylvania, he told RadarOnline.com: "It still has not been confirmed to me. I last spoke with my daughter two weeks ago,  and she didn't mention anything.
"I guess I better watch the Ellen show today then – but I'm happy for my daughter and her husband if the news is correct.
"If it's true, it's great news naturally."
The rumor mill has been in overdrive recently that Pink was in fact pregnant and recent photographs on a California beach over the weekend seemed to show-off a small baby bump.
Appearing on Ellen,  the colorful performer said: ""I didn't want to talk about it because I was just really nervous and I have had a miscarriage before but if I was going to talk about it with anyone, it was going to be with you"
Article continues below advertisement
"My mom has always wished me a daughter just like me," Pink added.
"I'm terrified one of us will go to jail."
Pink, 31,  admitted to Ellen that she does not know the sex of her baby,  but that her doctor believes that it is a girl.
Pink – whose real name is Alecia Beth Moore – was born and raised in Doylestown, Pennsylvania, along with her older brother Jason by her father and nurse mother Judith Moore who later went on to re-marry.