VIDEO: Pink Takes A Tumble At Concert, Taken To Hospital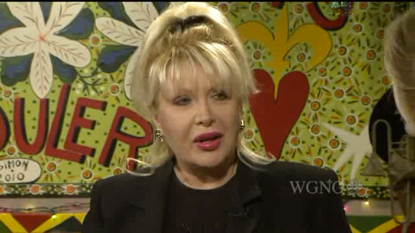 Pink is known for doing outrageous stunts during her concerts but Wednesday night in Nurnberg, Germany, a harness wasn't clipped properly and the singer was injured, sending her to the hospital.
During the final song of her performance, Pink is seen getting harnessed in and then taking a hard spill off the stage.
The concert ended immediately (as fans cheered as she made her way back onto and then off the stage) and the singer was taken to a local hospital where X-rays were taken. Thankfully, she made it out with no broken bones.
Article continues below advertisement
"Ok all my lovers out there - nothings sic broken, no fluid in the lungs, just seriously sore," Pink Tweeted on Thursday. "I made that barricade my b*tch!!!! Thanks Nurnberg :("
Further explaining what went wrong the singer wrote, "Didn't get clipped in2 sic harness correctly, drug me off stage, fell in2 sic barricade. Getting xrays sic. I hope it at least looked cool."
Pink even apologized to her fans - while in the ambulance on the way to the hospital!
"To all my Nurnberg fans - I am so so sorry to end the show that way," she wrote. "I am embarrassed and very sorry. I'm in ambulance now but I will b sic fine."
She came out injury-free but her husband Carey Hart took the opportunity to bruise her ego by Tweeting:
"Fyi@pink out of the hospital + all good. Just got the sh*t kicked out of her by the barrier. Steel barrier-1 Pink-0"
When contacted by RadarOnline.com, Pink's manager Steven Manzano confirmed "Pink's fine."