VIDEO & PHOTOS: Octo-Mom Takes The Kids (All 14!) To Millions Of Milkshakes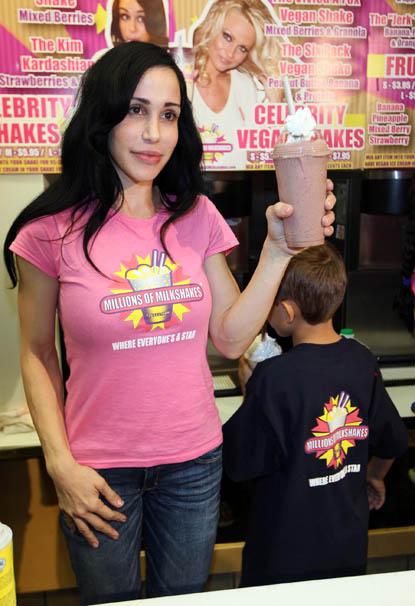 Octo-Mom Nadya Suleman took her kids -- all 14 -- to Millions of Milkshakes in West Hollywood, CA. Wednesday night to create her own signature shake.
When you have that many kids, even an SUV isn't big enough, so Suleman arrived in a Coach Tour bus with her entire brood and several nannies in tow.
Octo-Mom, 35, looked extremely svelte in a pink Millions of Milkshakes t-shirt as she posed on the red carpet as cameras snapped away. This was her first public appearance with all of her children.
Article continues below advertisement
Suleman's signature shake - which is now on the menu at Millions of Milkshakes - includes bananas, berries, sugar-free coco, protein powder and diary-free whipped cream on top.
Suleman says she wanted to create a healthy shake, and she credited working out with giving her the energy and strength to care for all her kids and to keep a positive attitude.
Suleman joins a long list of celebrities - including Lindsay Lohan, Pam Anderson, and Kourtney Kardashian - who have made special appearances at the milkshake establishment.