Octo-Mom Goal Was To Have 10 Babies, Her Doctor Testifies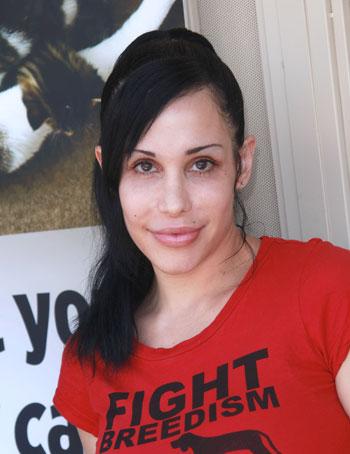 In the ongoing hearing regarding the fate of her doctor's medical license, Nadya Suleman has been revealed as an overachiever. Her physician Dr. Kamrava testified on Wednesday that Nadya's initial "goal" when she first met him in 1997 was to have 10 babies. She now has 14 children.
During their first visit, Nadya, then 21, said off the bat that she "wanted a large family," Kamrava said during his testimony.
Article continues below advertisement
"I didn't make any judgment on that... that's a personal decision," he added, also calling her "very intelligent" and "knowledgeable" during that first meeting.
Kamrava is fighting back against allegations that he was grossly negligent in his treatment of Suleman. Besides his treatment methods, he is also under fire for not referring Nadya to a mental health professional- especially after she asked for more treatments shortly after giving birth to six children within a short time frame.
EXCLUSIVE VIDEO INTERVIEW: Octo-Mom Nadya Sulemen Defends Doctor Accused of Gross Negligence
The doctor said that after Nadya gave birth to her daughter in 2002, she returned asking "for more pregnancies."
Kamrava revealed, "She wanted me to intentionally make twins." He also claimed he "severely discouraged" her from getting more fertility treatments.
Earlier in the week, Dr. Victor Y. Fujimoto, the expert witness for the board and the director of the University of California San Francisco's In Vitro Fertilization Program, said the practice of transferring 12 is unheard of. "I cannot imagine any colleague of mine transferring that many embryos," he said.