Exclusive
EXCLUSIVE INTERVIEW: Owner Of Octo-Mom's House: 'She's Hiding Money'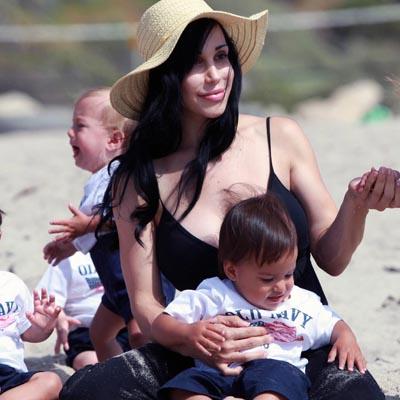 The man who owns Octo-Mom Nadya Suleman's home in La Habra, California, says he's started the process of foreclosing.
In an exclusive interview with RadarOnline.com, Amir Haddadin said he doesn't believe Suleman's claims that she's destitute. In fact, he calls her interview with RadarOnline.com -- in which she admits "food is my first priority"—"a lie."
"I think she's lying. It's all a lie," he told RadarOnline.com. "She has money, she's been paid for things. I think she's hiding her money and I intend to expose her to the public."
Article continues below advertisement
RadarOnline.com sat down in an exclusive interview with Suleman where she admitted that she's fallen behind in her mortgage payments. "I am in default almost a month," she said. Despite having 14 mouths to feed, Suleman insists that she is going to do everything she can not to go on welfare. But she added her family had enough money to live off for only a week.
In the mean time, she told RadarOnline.com that she's not really worried about losing her house just yet.
"It takes a couple of months or a few months to be really in default through the bank so it takes time and in those few months I'll find a way to secure money to pay off the mortgage."
But Haddadin tells RadarOnline.com he's had it with Suleman's excuses.
"I'm kicking her out. That's it. I'm kicking her out because she can't stay in my house if she's not paying," he said.
RELATED STORIES: