Exclusive
EXCLUSIVE: Foreclosure Proceedings To Start Monday On Octo-Mom's House, Says Deed Owner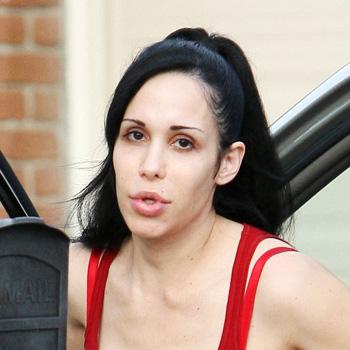 Octo-Mom Nadya Suleman may find herself and her 14 children without a home, after the man who owns the deed says he plans to begin foreclosure paperwork for non-payment, RadarOnline.com has learned exclusively.
In an exclusive interview with RadarOnline.com, Amir Haddadin says Nadya owes him a total of $7,560 for back payments stemming from May to August. He says he never got a check for September either.
Article continues below advertisement
Suleman's monthly mortgage payment on her La Habra, CA home is $4,060. Since May, Haddadin says he's only received monthly checks for $3,185.
As RadarOnline.com reported, the mom of eight was on the verge of being evicted back in April because she couldn't afford to make her payments.
Haddadin told RadarOnline.com, "I'm going to start foreclosure on the house on Monday. I'm sick of this. She is taking advantage of me. I asked her attorney Jeff to get me my money and he said, 'Nadya has no money. You're going to have to put up the money yourself'."
Haddadin says he's had enough and given Suleman enough chances. On Monday, he says, she's going to have to start looking for a new place to live.
"I told her attorney I want her out of the house. If she can't pay me my money, I'm going to go after Nadya, her father and the corporation she says she runs. I'm going after all of them."
As RadarOnline.com reported on Friday, Suleman is going on welfare to make ends meet. With no income and 14 children to feed, sources close to her say she's running out of money very quickly.
Article continues below advertisement
"She's still hoping to pull off a deal that will pay her a fortune but at this point it just doesn't seem possible," the source said.
"Nadya has nannies and huge expenses raising 14 children. She needs a lot of money just to keep up with the basics. And now the income has dried up and she didn't make enough in the past year and a half to live off of it. That money is gone and now she's facing desperate times."