Exclusive
EXCLUSIVE PHOTO: First Crime-Scene Photo Of Sewer Where Body Of Survivor Producer's Wife Found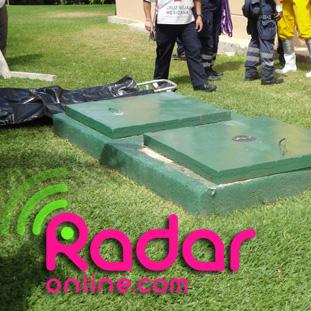 Former Survivor producer Bruce Beresford-Redman's wife Monica Beresford-Redman was murdered while the couple was on vacation in Mexico, and only RadarOnline.com has the first photo of the sewer where her body was found.
The shocking image was taken on April 8, 2010, the day Monica's body was discovered in a sewer at the Moon Palace resort in Cancun. Bruce has been charged in Mexico with the murder of his wife.
Article continues below advertisement
In this first crime-scene photo, a body bag appears near the green sewer covers, although it's unclear if her body is inside.
As RadarOnline.com previously reported, Monica was found naked and had suffered fatal blows to the head and had scratches on her neck.
The autopsy report said Monica died from asphyxiation and suffocation.
Bruce and Monica were vacationing at the swanky Cancun resort as an attempt to repair their marriage after she learned he had been unfaithful.
The 38-year-old had been cheating on Monica with Joy Pierce, as RadarOnline.com first exclusively revealed.
Although the murder happened last April, Bruce was only arrested this past November 16 at his Rancho Palos Verdes, California home for Monica's murder.
COURT DOCUMENTS: Read The Extradition Order Filled With New Details Of Murder
The U.S. Attorney told a judge in the United States District Court it wanted Bruce locked up until he is extradited to Mexico.
Article continues below advertisement