Exclusive
EXCLUSIVE INTERVIEW: Bachelorette Star Julien Hug's Live-In Girlfriend: 'He Was So Misunderstood'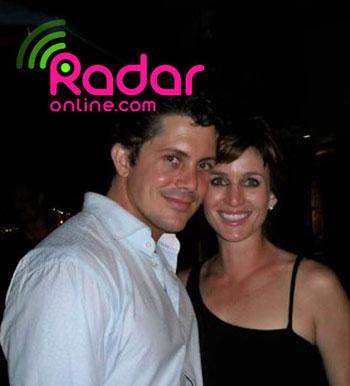 In a tear-filled interview Julien Hug's live-in girlfriend told RadarOnline.com the Bachelorette star was misunderstood by most people and that the couple was planning to wed.
Jennifer Bell broke down sobbing throughout the interview as she told RadarOnline.com that Hug was a "free spirit...a pure man--nothing but pure goodness."
Bell alluded to a secret pain that Hug was suffering from, a pain that ended his life. Hug's father confirmed RadarOnline.com's earlier report that the Bachelorette contestant committed suicide.
Article continues below advertisement
Hug, 35, was found dead near a highway in Southern California on Wednesday. His death stunned the TV world and left everyone, including Bell, simply asking "Why?"
Crying hysterically, Bell, 35, told RadarOnline.com that she lived with Hug for the past two years. They knew each other for a year before they began dating. "We were the light of each other's life. Everyone, I mean everyone loved this man. We lived together in San Diego, in a beautiful condo," she said.
"This is beyond painful. We've been together for two amazing years.
"He was so misunderstood in many ways. People wanted him to be this Bachelorette star. That TV show was not even one percent of who he was.
"The whole TV stuff he did...that was a small part of him....he went on that show to travel and explore adventure."
The reality of Julien's death is at times almost impossible for Bell to grasp and she told RadarOnline.com: "He was drop dead gorgeous. I can't believe I'm saying 'he was.'" At that point, she dissolved into more tears.
Article continues below advertisement
Jennifer revealed that she and Julien were discussing marriage.
"We talked about getting married in Montauban, France," she told RadarOnline.com."He even spoke French to me. He spoke the language so eloquently and lovely.
"I had two of the best years of my life with him. They have been nothing but pure happiness to me.
"Julien was my life and I'm so devastated. I'm hurting and can't believe it.
"I never took Julien for granted. We never argued. He was my best friend."
Searching to understand why Julien is suddenly gone, Jennifer told RadarOnline.com: "Maybe he was masking pain that we don't know yet. Maybe he was wearing a costume. But regardless of whatever happened, we lost a beautiful man. A beautiful soul. I lost part of my life.
EXCLUSIVE INTERVIEW: 'Bachelorette' Star Julien Hug Shot Himself, Says Friend
"His death is so unexpected."
Jennifer tried to compose herself but started sobbing again as she thought about living without Julien. "Everything in our condo reminds me of him," she told RadarOnline.com. "It will be so heart-wrenching to step into our house again. Our photos. His smell. His motorcycle. Our life was there.
Article continues below advertisement
"I don't know how I will be able to do it."
Wracked with pain, Jennifer wanted to convey the essence of the man she planned to spend the rest of her life with and told RadarOnline.com: "He had such a radiant smile. Julien was a free spirit. He didn't care about his looks. He loved adventure.
"The man never said a poor word about anyone. He taught us how to live. He was incredibly intelligent. He was a veracious reader, he devoured books. He touched so many lives.
"People loved him to pieces."
Exhausted with anguish, Jennifer spoke about Julien's legacy.
"Julien taught me how to live life," she told RadarOnline.com. "That's how I want to everyone to remember him.
"He was my life."
Jennifer added her deepest thoughts concerning the man she planned to marry to her Facebook page on Thursday. Her friends responded with loving and supportive words from her closest friends.
Article continues below advertisement
Jennifer Keslik BellYou's status update read: are the love of my life my dear Julien. Thank you for giving me the best two years ... you showed me true love and I'm not sure how anything else will ever compare. Hands down, you're the best man I've ever known... an absolute gentleman with the kindest soul... I do not know how I will move forward... how I will cope... you were and are everything to me. Love you forever baby.