Exclusive
EXCLUSIVE: Dentist Photos Prove Oksana Was Telling The Truth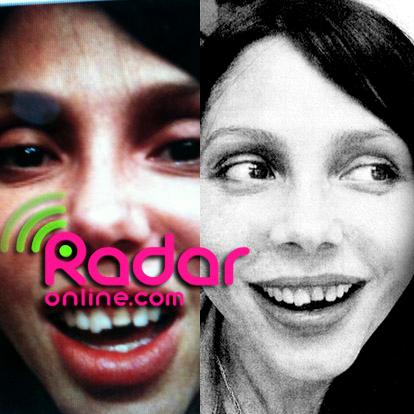 A newly released photo – seen here on RadarOnline.com – proves Oksana Grigorieva was telling the truth about the injuries to her teeth in the aftermath of her battle with Mel Gibson.
The photo on the right was taken by Oksana's dentist, Dr. Shelden Ross, the day after the Russian beauty says Mel punched her in the mouth and the side of the head as they argued and he flew into a rage.
Article continues below advertisement
The injuries show in the dentist's photo are a perfect match with the world exclusive photo (on the left side ) first published by RadarOnline.com on July 19.
RadarOnline.com's photo shows injuries to the veneers on Oksana's upper front teeth. The Gordon photo, as you can see here, shows the exact same injuries.
Ironically, even the website that first claimed Oksana's photo was fake has now been forced to retreat and publish the dentist's photo, showing the injuries.
Oksana was targeted by aggressive leaks and "spin control" from Team Gibson, who tried to discredit key evidence first disclosed by RadarOnline.com in July, including the blockbuster world exclusive audio tapes of Gibson cursing in a racist, misogynistic rant.
But now months later as more evidence trickles into the public domain those reports contradicting the evidence are being disproven.
A Hollywood trade publication claimed to have an investigative source who said Oksana's injury photos were false. That publication reported: "However, during two months of negotiations and the presentation of massive amounts of evidence by each side at the Gibson-Grigorieva mediation in May, there never was discussion about the existence of a photograph purporting to show Grigorieva with a black eye. It was not disclosed during the mediation as evidence of Gibson's abuse because, the source said: 'It just did not exist. The thing is fabricated.'.
Article continues below advertisement
Now it is clear the only thing fabricated were assertions doubting the authenticity of the Oksana broken veneer photos.
RadarOnline.com's photo was taken just hours after Oksana claims Mel punched her. RadarOnline.com obtained this evidence after Gibson's camp issued a carefully worded denial that she had suffered the injuries.
"Not true... her teeth are in her mouth according to our information," one of Mel's laywers told RadarOnline.com, last month.
But as we RadarOnline.com exclusively reported Mel admitted to hitting Oksana in an audio recording of a telephone conversation in which the enraged actor says "you f**king deserved it" after she protested that the Braveheart star hit her and broke her teeth.
Mel has admitted in his declaration to slapping Oksana in an attempt, he claimed, to calm her down. But these broken veneers prove that slap must have been with tremendous force.
Article continues below advertisement