Exclusive
EXCLUSIVE: Charlie Sheen Reneged On Divorce Deal To Divert Focus From Porn Star Scandal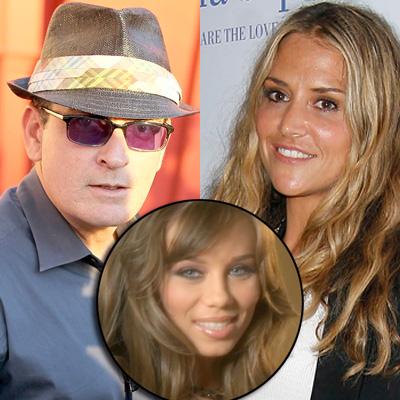 Charlie Sheen and his advisors asked ex-wife Brooke Mueller to wait twelve months before filing for divorce until he had weathered the aftermath of their Christmas Day blowup in Aspen, last year, RadarOnline.com has exclusively learned.
But the Two and a Half Men star reneged on the deal and chose to rush through the divorce in the wake of his furniture-throwing meltdown at New York's The Plaza Hotel, in which a hooker was trapped inside a bathroom, according to a Sheen insider.
Article continues below advertisement
"Brooke was asked to not file for divorce for one year," said the source, who has intimate knowledge of the situation.
"Brooke was in full compliance with that request.
"Brooke was asked to do that to help him out after the fallout from the Aspen Christmas Day incident.
"Brooke was going to honor what was asked of her."
But after the actor's cocaine and alcohol binge, which led to his hospitalization for a mental health check, the Hollywood hell-raiser decided to expediate the end of their two-year marriage.
Facing career threatening headlines as a result of the meltdown, Sheen decided to throw Mueller in front of the scandal - and in the process - was able to manipulate the negative media attention he was receiving.
Said the source: "Charlie's decision to file for divorce from Brooke was a public relations move to divert attention from what happened with Charlie in New York City, plain and simple.
"Brooke was absolutely blindsided by the filing as it came out of left field."
Article continues below advertisement
Sheen and Mueller separated after the Aspen, Colorado, incident when the actor supposedly pinned his wife on a bed, put a knife to her throat and threatened to kill her.
In the arrest warrant, Mueller recalled how the actor straddled her on a bed with one hand grasping her neck and the other holding the knife.
She said Sheen told her: "You better be in fear. If you tell anybody, I'll kill you."
In August, Sheen was convicted of misdemeanor assault and as a condition of probation, he was ordered not to drink alcohol to excess, use illicit drugs or commit crimes.
While police found him drunk and naked in a trashed room last week, along with his porn star date Capri Anderson, aka Christina Walsh, no charges were filed.
The Chief Deputy District Attorney Arnold Mordkin in Aspen declared Sheen's case closed late Tuesday given there was no evidence he had violated any conditions of his probation.