Exclusive
EXCLUSIVE: Ashton Kutcher Called Me After Scandal Broke, Claims Mistress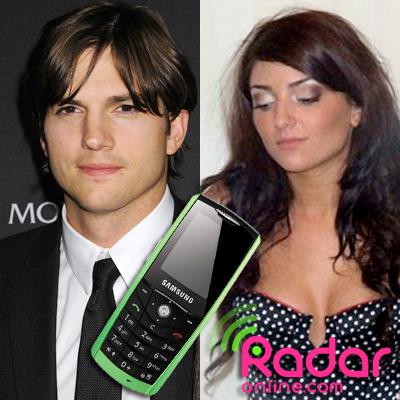 The woman who romped with Ashton Kutcher on the couch at his Hollywood mansion - while his wife Demi Moore was out of town - is claiming the actor contacted her after the cheating scandal broke, RadarOnline.com has exclusively learned.
In another attempt to cash in on her notoriety, Brittney Jones, 21, tried to sell details of the purported five-minute phone call to various media outlets.
Kutcher's mistress is also claiming she has, in her possession, a sweater once owned by the That '70s Show star.
Article continues below advertisement
She says she borrowed it after their steamy tryst, according to one source, who knows Jones.
"Brittney took a photo of her cell phone showing Ashton's number, date and time," said a source, with knowledge of the situation.
"She said they spoke for about five minutes, but she wouldn't go into what they discussed, until an agreement was reached with a media outlet.
"However, when some media tried to verify it was indeed Ashton who had called Brittney, they discovered the phone had been disconnected, so there was never definitive proof that it took place, as she claimed."
Jones said she met Kutcher when he, wife Demi and step-daughter Rumer were bowling next to her at Hollywood's Lucky Strike in July.
She slipped him her number on a napkin, and he began texting her things like, "R U busy?"
As RadarOnline.com revealed, Jones had also tried to hawk a story that she was pregnant with the Hollywood heartthrob's child.
"Brittney thought she was pregnant because her period was late for at least a month," a source told RadarOnline.com.
Article continues below advertisement
Because she was late, Brittney's advisors constructed a money-making scheme to cash in and sell a story that she was pregnant with Kutcher's baby after having unprotected sex.
Said the source: "In her mind, Brittney believed she was about to have Ashton Kutcher's baby."
Jones claimed Kutcher and Moore have an open marriage and suggested the A-list couple also have "threesomes often".
"He said they share women, but he isn't supposed to go off and sleep with women on his own," Jones said.