Exclusive
EXCLUSIVE: Ashton Kutcher's Lover Tried To Sell Story She Was Pregnant With His Baby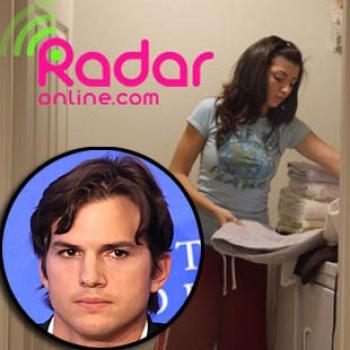 The woman who had a brief affair with Ashton Kutcher tried to cash in on their tryst with shocking claims she was pregnant with his child, RadarOnline.com has learned exclusively.
Brittney Jones, 21, boasted that she became pregnant after having unprotected sex with Ashton, 32, on the couch at his Hollywood mansion, while wife Demi Moore, 47, was out of town.
Jones' manager and publicist tried to sell the story to a number of media outlets - not RadarOnline.com - but squashed the deal after Jones discovered she was not pregnant.
Article continues below advertisement
"Brittney thought she was pregnant because her period was late for at least a month," a source told RadarOnline.com.
Because she was late, Team Jones constructed a money-making plan to cash in and sell a story that she was pregnant with Ashton's baby.
"The story was pitched to different media outlets," the source said.
"In her mind, Brittney believed she was about to have Ashton Kutcher's baby."
But some people involved in the negotiations had serious questions about whether Jones was pregnant or seeking fame - and money - off her brief sexual relationship with Ashton, a liaison that she made public.
"It was a blatant fabrication," according to one source, who has direct knowledge of the pitch.
Either way one thing is for sure - Jones was trying to make money, the insider said.
According to Jones, she met Kutcher at Lucky Strike Lanes in Hollywood where she gave him her telephone number.
She then purportedly visited him a few days later at the $3 million mansion he shares with Moore.
Jones alleged she and the That 70s Show actor had sex on his living room couch while Moore was out of town.
Article continues below advertisement
She said they exchanged text messages following the tryst.
Jones claimed Kutcher and Moore have an open marriage and suggested the A-list couple also have "threesomes often".
"He said they share women, but he isn't supposed to go off and sleep with women on his own," Jones said.
VIDEO: Ashton Kutcher: "I Haven't Slept With My Wife"
"He explained that he and Demi had a deal where they had to share lovers. He felt bad that he had been with me and didn't share."