VIDEO: Atomic Tom Takes The B Train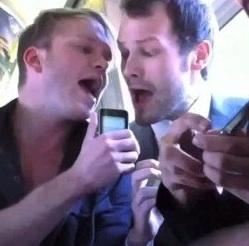 Atomic Tom sure knows how to get attention for its debut album. Video of the NYC-based band performing Take Me Out, using only iPhones while riding the subway, has gone super-viral, and you can watch it here on RadarOnline.com.
The Brooklyn hipsters claim they performed with their iPhones because their instruments had been stolen. Whether it was that, or just a great promotional stunt, we don't care because the performance is fantastic.
Article continues below advertisement
Using Apps like iShred Guitar and Pianist, the band rocks out to their extremely catchy tune.
They may not be the first band to get attention for performing with their iPhones, but they may just be the best.
And the faces of the other passengers on the B Train as it crosses the Manhattan Bridge -- just priceless!
Related Stories: