EXCLUSIVE: iPhone 'Situation' -- Jersey Shore Star Launches App -- See It Here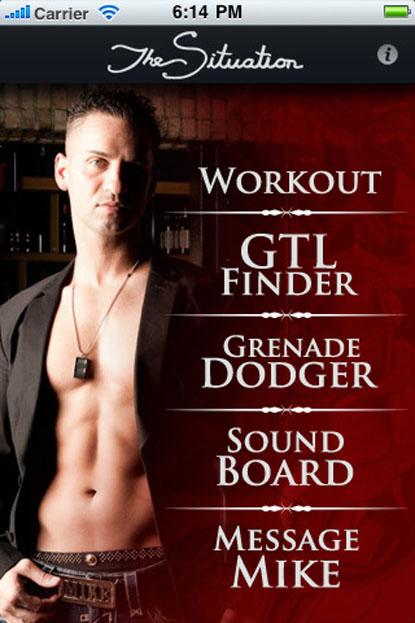 You can now take Mike "The Situation" Sorrentino with you everywhere you go, as Jersey Shore's resident hunk has an app available for your iPhone, and RadarOnline.com has all the details for you.
The app integrates five elements that define the pop culture sensation: a workout plan, a GTL finder (which helps you locate the nearest gym or Laundromat), a Sitch soundboard, an option to message The Sitch directly on his Facebook page, and a game called Grenade Dodger.
Article continues below advertisement
"Grenade Dodger is a really fun game where you can watch these grenades (Jersey Shore slang for ugly girls) drop from the top of the screen and Mike is at the bottom where you, the player, needs to maneuver and dodge grenades," our source told us. "Actual models were chosen from around the world and photographed to use for the game."
Mike's family has been involved in the production of the reality star's first-ever app to keep it as authentic as possible.
"The Sorrentino brothers have been working to perfect the application for almost six months and are really thrilled with the final product," said our source.
Our source also said it is "expected it to be really successful because The Jersey Shore airs internationally, and it is now sold overseas."
Its clear the Sorrentinos are quickly becoming international business moguls, and this new application can be added to their long list of business deals and endorsements related to The Situation and The Jersey Shore.
The app is available via the iTunes store for $4.99. Check out The Sitch when Dancing With The Stars' eleventh season premieres September 20 on ABC at 8/7c. In the meantime, new episodes of Jersey Shore air on MTV Thursdays at 10/9c.