Rapper T.I. May Be Looking At Up To 14 Months In Prison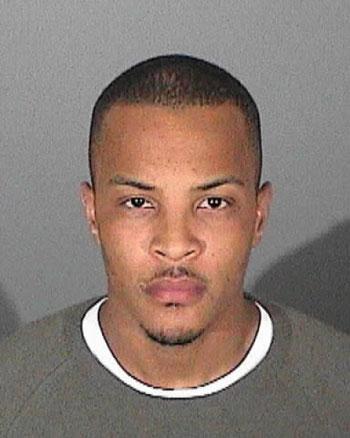 T.I.'s probation officer is showing the rapper no love and recommending he spend 14 months in prison if his probation is revoked following his arrest last month in Los Angeles, RadarOnline.com has learned.
READ THE COURT DOCUMENT
T.I., born Clifford J. Harris Jr., and wife Tameka "Tiny" Cottle, were arrested September 1 and both charged with possession of a controlled substance — a substance that was later revealed to be Ecstasy.
Article continues below advertisement
And get this - Ecstasy may not have been the only drug in their possession. In court documents filed with the United States District Court of Northern Georgia, it is also stated that the rapper was in possession of marijuana and codeine
T.I. was on probation at the time of the arrest.
The rapper may have some hope though; as his lawyers filed papers in a Georgia court on Friday, stating the probation officer's request is "erroneous" and that TI should serve, at most, 11 months behind bars and not the 14 requested.