Randy & Evi Quaid's Texas Home Hits Auction Block With Dismal Results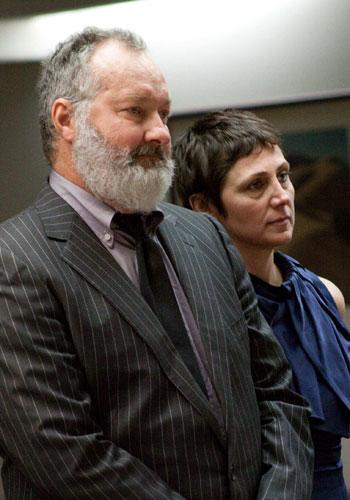 Proving not even their Bonnie & Clyde notoriety can hold people's attention for very long, Randy and Evi Quaid's Texas home failed to draw many buyers when it hit the auction block Tuesday.
According to the local paper - The Big Bend Sentinel - the Quaid's Marfa, Texas, warehouse-like home was auctioned on the courthouse lawn with barely half a dozen people showing up.
Bidding for the property started at $150,000 and when no one responded to the initial asking price, the price dropped fast.
Article continues below advertisement
When the bid finally came down to $90,000, the building's original owner, Bob Wright, raised his hand and won the bid.
"I'm gonna sell it," he said. "That building is on the market."
The Quaids bought the building from Wright, a Marfa realtor and customs agent, in 2009. After making a single payment on the place, for $59,000, they defaulted on the rest of the purchase and left town last December.
Wright took the Quaids to court over the matter and won; the auction was part of the court-ordered action in favor of Wright. Randy and Evi were not present at the auction.