Randy & Evi Quaid Arrested -- Again!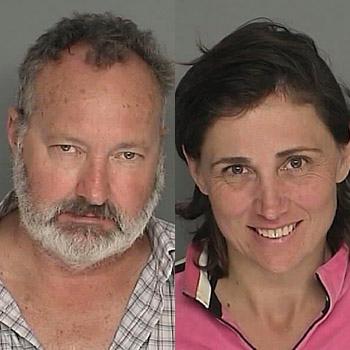 Randy and Evi Quaid were arrested Saturday night in Santa Barbara, RadarOnline.com is reporting. The couple was busted on charges of felony residential burglary with Evi getting the bonus of resisting arrest.
The latest brush with the law for Dennis Quaid's wacky brother and sister-in-law began Saturday afternoon when the owner of a Santa Barbara property called the County Sheriff to report squatters living in his guest house.
Article continues below advertisement
Deputies arrived on the scene to discover the Quaids, who insisted the house belonged to them.
Well, it did, years ago, but it has changed hands twice since then. The current owner purchased the place in 2007.
The Quaids have also been charged with a misdemeanor, entering a building without consent; and the owner is additionally alleging the Quaids caused $5,000 in damage to the guest house.
Randy and Evi Quaid are legends within the Santa Barbara legal system, a reputation that began when they used an invalid credit card to stay at a luxury hotel. They missed several court dates and Evi eventually pleaded no contest to defrauding an innkeeper. She is currently on probation.
They've also had several run-ins with the law in Texas where they also previously owned a home.
RELATED STORIES:
Randy Quaid Claims There Was A "Conspiracy" To Take His Money
Judge Orders Quaid Home To The Auction Block
Judge Orders Randy Quaid Wages Garnished