Exclusive
PHOTOS: David Arquette's Lover Filmed Topless Scene For Movie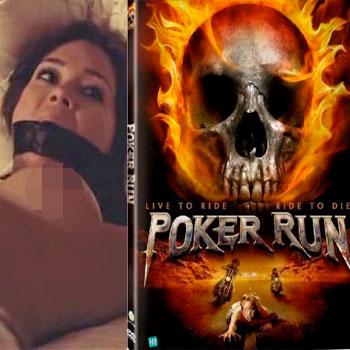 Jasmine Waltz, the woman David Arquette says he had sex with "once, maybe twice," is no stranger to scandal and we've got the photos to prove it!
RadarOnline.com has obtained movie stills from Poker Run, a film Waltz made in 2009 that was produced and distributed by Cayo Largo Productions and Phase 4 Films, respectively.
In the graphic stills, Jasmine is naked and handcuffed to a bed with a gag in her mouth. One of the pictures suggests she is being raped by a male character in the film while handcuffed to the bed.
Article continues below advertisement
The photos are just another piece of Jasmine's scandalous past to recently emerge, which also includes a drug arrest in Orange County, Florida in 2000 when she was just 21.
Following the shocking news of David Arquette and Courteney Cox's separation, Arquette went on the Howard Stern Show and admitted to sleeping with Waltz "once, maybe twice" after splitting from his wife.
The 31-year-old aspiring actress has stayed surprisingly quiet, despite Arquette's public candor. However her friend told RadarOnline.com that Waltz was blindsided by Arquette's admission of their sexual tryst.
"Jasmine was just shocked when she heard David had gone on Howard Stern and told what she considered to be private details of their relationship," said the pal.
"She had no idea he would sleep with her and tell everyone."
AUDIO: Hear David Arquette's Interview On Howard Stern
For the uncensored stills and a clip, check out Egotastic.com
RELATED STORIES: