PHOTOS: Bikinis! All The Single (And Sexy) Ladies Strip Down!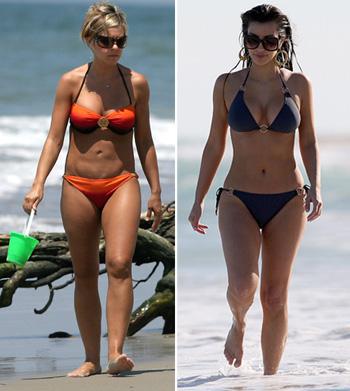 Courteney Cox and Laura Dern both split with their respective longtime loves this week, joining the sexy and single ranks of Jennifer Aniston, Kate Gosselin, Kim Kardashian and Taylor Swift.
What can they learn from their fellow bikini bombshells?
Just because they don't have a ring on it, doesn't mean they can't make a bigger splash solo!
RadarOnline.com has foxy photos of the most eligible and sexy bachelorettes in Hollywood, showing off their sought-after bods in skimpy bikinis.
Article continues below advertisement
The most impressive bikini bod of any sexy single has to belong to Kate Gosselin, because let's face it, who looks that good after giving birth to eight kids?
After splitting ways with her cheating husband, the reality show star has been seemingly single, splitting her time between work, motherhood and getting back into tip-top shape!
After playing the field with the hottest footballers in the NFL Kim Kardashian is now single and ready to mingle!
The ravishing reality show star, who flaunts some of the most dangerous curves from Malibu to the Hamptons in her skimpy swimsuits, has traded in Sunday Night Football for quality time with the family, but we are quite confident she will be back in the bleachers before long.
After nearly a decade of her life spent with hunky Stuart Townsend, Charlize Theron split ways with the Irish lad, becoming a single lady in early 2010.
MORE ON:
Sexiest Bodies Hollywood
Article continues below advertisement
The South African Model turned Academy Award winning actress has never looked better, showing off her ABSolutely flawless bikini bod whenever she can.
Jennifer Aniston is perhaps one of the most talked about singles in Hollywood.
After splitting ways with Brad Pitt several years ago, the former Friend has been courted by the hunkiest male supermodels, actors, singers and Hollywood playboys, but she doesn't seem to be in any hurry to settle down.