Courteney Cox And David Arquette Split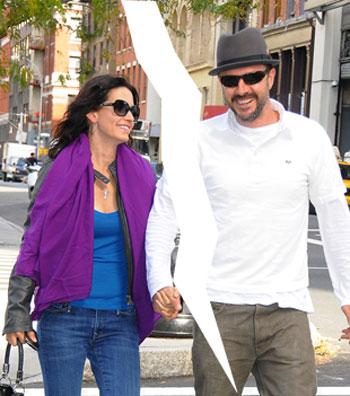 Courteney Cox and David Arquette have split after 11-years of marriage, RadarOnline.com has confirmed.
The A-list couple– who have a daughter Coco together - have parted ways, according to In Touch Weekly.
Cox and Arquette have allegedly been living apart for several months, but have not made their break up official yet.
RadarOnline.com reached out to Arquette's rep who confirmed a statement would be issued shortly.
Article continues below advertisement
No further details have been revealed, but some reports are blaming new pictures of Arquette with a woman for the break up.
The news comes just days after the couple's best friends, Ben Harper and Laura Dern announced their separation. Harper filed for divorce form Dern on Friday citing "irreconcilable differences."
Arquette was spotted out on the town on Wednesday night at popular Hollywood nightclub Trousdale, without his wife.
Eyewitnesses said he was in "good spirits" and even stopped for an impromptu rap with a street performer on the way out.
News of the surprising break up comes just weeks after Cox and Arquette finished filming Scream 4 together.
UPDATE: Courteney Cox and David Arquette Released A Statement To RadarOnline.com.
"We have agreed to a trial separation that dates back for some time. The reason for this separation is to better understand ourselves and the qualities we need in a partner and for our marriage. We remain best friends and responsible parents to our daughter and we still love each other deeply. As we go though this process we are determined to use kindness and understanding to get through this together. We are comfortable with the boundaries that we have established for each other during this separation and we hope that our friends, family, fans and the media also show us respect, dignity, understanding and love at this time as well.