PHOTOS: The Best, Worst & Wackiest Halloween Costumes!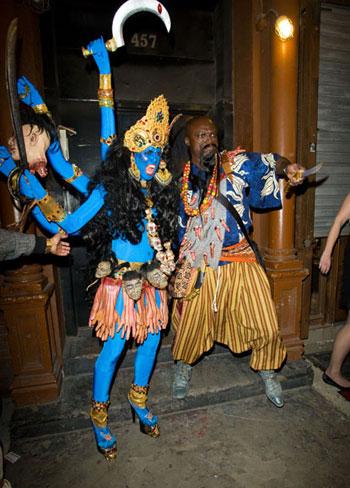 Celebs love playing dress up on Halloween, because it is the one night of the year that they can wear something completely outrageous and avoid landing on the Worst Dressed list -- until now!
RadarOnline.com has compiled photos of the best, worst and wackiest celebrity Halloween costumes of all times, in this fab -- and frightening -- fashion feature.
Heidi Klum is clearly the queen of Halloween.
The sexy supermodel hosts an annual star-studded costume party, where she always dominates with her intricate and creative costumes.
Article continues below advertisement
What's one of her wackiest looks of all times?
When the blonde babe and her hubby Seal got clever with their costumes, dressing up like a Hindu deity and Genghis Khan.
Heidi went all the way with her far - out fashion with multiple arms and cutoff heads attached to her blue bodysuit!
Check out Heidi Klum's craziest costume ever
Heidi and Seal aren't the only couple who trick-or-treat in matching a la mode.
Jessica Alba and Cash Warren hit the party circuit last year adorably attired as Dora the Explorer and her guy pal Diego.
See dressed up duo Jessica Alba and Cash Warren.
How about when Dude Looks Like A Lady?
There are some male stars who like to provoke a few laughs by trading in their Chucks for Christian Louboutins for an evening of Halloween fashion fun.
Jason Biggs hit the party circuit one year dressed up like Dorothy from the Wizard of Oz, while Perez Hilton took on Lady Gaga's powerful persona, glammed up like the pop star from patent leather platform boot-to-blonde 'do!
Article continues below advertisement
When Kim Kardashian hit the red carpet a few years ago dressed as Wonder Woman, she gave the superhero a run for her money!
The brunette bombshell looked smoking hot in her stars and stripes bustier leotard and thigh-high patent leather boots, which she picked up at celeb costumer Trashy Lingerie.
Don't miss Kim showing off her Kardashian curves.
Audrina Patridge made it clear what she Dreams of, showing off her perfectly toned abs in a sexy Jeannie ensemble at a Hollywood Halloween bash, while Britney Spears (during her Crazy phase) tried to trick photographers -- by dressing up like them!