BEAUTY RADAR: From Mad Men To Jersey Shore, Stylist Dishes On Halloween Hair Secrets!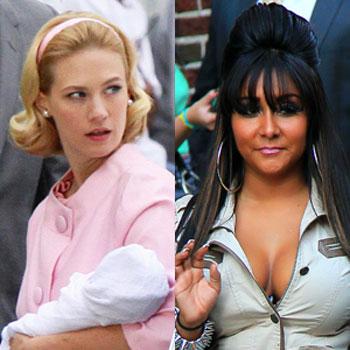 Whether you are dressing up like your favorite Jersey Shore guy or gal or going retro Mad Men style this Halloween, a costume is only half the battle. RadarOnline.com consulted hairstylist Shannon Tackett of Salon Blu in Santa Monica, California, to share her scary hair secrets!
Insiders are saying that one of the most popular costumes this year will be Betty Francis (previously known as Betty Draper) from AMC's hit 1950's drama. The beautiful blonde, played by January Jones, is known for her signature, perfectly coifed, retro flip hair, and this look can be achieved in a few simple steps!
Article continues below advertisement
Start with a set of hot rollers, some setting spray (Bumble and Bumble Styling Lotion is Tackett's fave) and a brush (she recommends a Mason Pearson boar bristle, which is expensive, but lasts a lifetime!).
Begin with a mohawk section from front to back, rolling the first two rollers forward and the rest (the back and sides) to the back. Keep each of these sections no bigger than the roller, and be sure to spray each section with setting spray.
Who Are You Going To Be For Halloween?
Keep the rollers set in place until they cool, about 20 minutes. When they are ready, take them out carefully, combing through with your fingers first, then brushing into flip style. Spray in place, and voila!
Curl Control: Cutler Hair Care
Dying to recreate The Situation's Jersey hair or Snooki's pouf? While you may think that hairspray and gel are the way to go, Tackett dishes on an insider's secret: egg whites! Found in your fridge, egg whites work like a charm. Just use the whites like you would regular hair gel, form your shape and blow dry. And the added bonus? Because egg whites are packed with protein, you will be giving your tresses a treatment at the same time!
Article continues below advertisement
So, we have all seen those cans of hair color lined up at the Halloween store, but be wary before you spray that color in your hair. Tackett insists that one of the biggest Halloween hair mishaps occur when blonde babes add "temporary" color into their hair, because it will stain their hair for good. She suggests investing some money in a wig, instead of color correction on November 1st.
If you add color to dark tresses, the best way to take it out is to mix your daily shampoo with some baking soda, using a conditioning mask like Davines MoMo treatment to follow.
Keep checking back to RadarOnline.com for more spooky style tips this Halloween!