Exclusive
EXCLUSIVE: Kim Kardashian's Birthday Cake Worth Over $1 Million!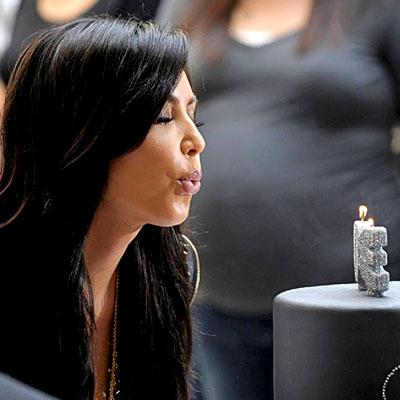 Kim Kardashian is about to take a bite worth a whole lot of money.
A New York jeweler has teamed up with a restaurateur to bake a diamond encrusted birthday cake, to be presented to the Keeping Up With The Kardashians star at a 30th birthday party for her at Glo Nightclub in Westbury, New York, on Saturday, RadarOnline.com has learned.
"The jeweler is going to encrust the cake with loose diamonds worth over a million dollars," Danielle Orsino, a spokesperson for Glo Nightclub, told RadarOnline.com.
Article continues below advertisement
"Their goal is to break the record for the most expensive cake ever made which was 1.65 million dollars."
The birthday cake is the brainchild of restaurateur Nino Selimaj, who is known for his food-related publicity stunts.
In 2006, he offered a $1,000 pizza at his eatery Nino's Bellissima in Manhattan which was topped with Petrossian caviar and Maine lobster tail.
RELATED STORIES: