Oksana In Court, No Sign Of Mel Gibson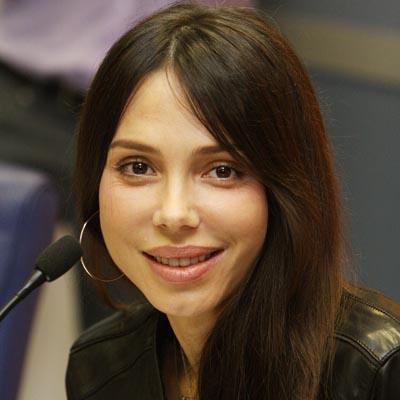 UPDATE: One of the items being discussed behind closed doors is a request by Oksana's ex attorneys for more legal fees from Mel Gibson, RadarOnline.com has learned. Mel has already shelled out $250,000 to Oksana's lawyer, as he is required to pay their fees. Oksana's ex lawyer Marci Levine is in court trying to collect for her firm. Judge Scott Gordon previously awarded $250,000 to Levine's partnere Manley Fried.
Article continues below advertisement
Oksana Grigorieva went back to court on Monday in her continuing war against Mel Gibson.
The Russian-born musician showed up to Superior Court in downtown Los Angeles for her ongoing custody dispute with Gibson, the father of her baby daughter Lucia, who will turn one year old on October 30.
RadarOnline.com was on the scene as Oksana arrived wearing black pants, grey top, and sunglasses. She was accompanied by her high profile attorney Lisa Bloom.
Neither spoke to reporters as they entered the courthouse.
By approximately 9:30 am PT, Oksana went into the courtroom, which was closed to reporters.
Before entering the courtroom Oksana's new attorney Lisa Bloom walked over to Mel's lawyer Stephen Kolodny and handed him some legal papers.
As RadarOnline.com was first to report, the Russian singer and pianist claims Mel punched her twice in the face last January at the star's home in Malibu, breaking two of her veneers and giving her a concussion. Oksana said that she feared for her life and that of Lucia.
Article continues below advertisement