Joran van der Sloot Caught On Video In Drug Sting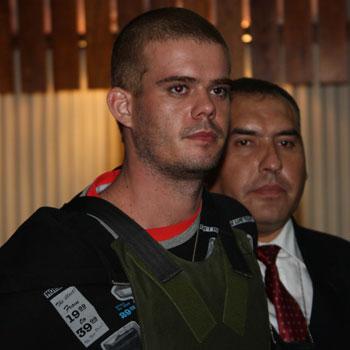 In a scene reminiscent of HBO's Oz, a shirtless and imprisoned Joran van der Sloot is seen haggling with a drug dealer in a video obtained by CNN affiliate America TV, RadarOnline.com has learned.
WORLD EXCLUSIVE PHOTOS From Van Der Sloot Crime Scene & More
In the clip, which was shot in August, Van der Sloot is standing around his protective custody cell, when the dealer asks him if he'd be interested in buying pot.
Article continues below advertisement
EXCLUSIVE: Mischa Barton Out Of Control, Partying Details
The vendor said, "I have marijuana, are you buying? Oe, Oe, Oe gringo! Gringo Van der Sloot," to which van der Sloot replied, "Can you sell it to me for five soles?"
Van der Sloot's lawyer Maximo Altez told In Session the incident was "staged" and that he's "asked the National Correctional Institute to conduct an investigation" in connection with the exchange.
Bruno Guzman, a spokesman for Lima's Castro Castro prison -- where van der Sloot is staying as he awaits trial -- told In Session officials are investigating the matter.
The 23-year-old Dutchman is in the Peruvian prison in connection with accusations he killed 21-year-old Stephany Ramirez Flores May 30, five years to the day of the 2005 disappearance of Alabama teenager Natalee Holloway in Aruba, which thrust the Dutch playboy into the headlines.