Exclusive
EXCLUSIVE: Team Oksana -- 'Mel Wants Baby Lucia To Pay Rent'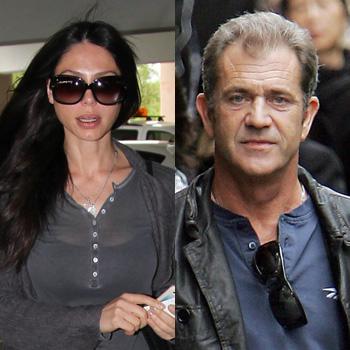 Oksana Grigorieva's camp is fighting mad at her former lover Mel Gibson, who they claim "wants to charge his own baby daughter" rent to live in his Sherman Oaks, California, home.
Speaking exclusively to RadarOnline.com, multiple sources connected to the Russian musician, 40, have confirmed our earlier report revealing how the Lethal Weapon star, worth an estimated $600 million, is refusing to pay his court-ordered $20,000 monthly child support.
Article continues below advertisement
"It's simple -- Mel wants baby Lucia to pay rent," a Team Oksana insider told RadarOnline.com.
"Mel is holding out on the child support that has been ordered by a judge because he wants to charge Lucia $6,000 each month for rent, even though she is not yet 12 months-old, to live in the home where she and her mother reside.
"What kind of a father would do that to his daughter?"
Even though a Los Angeles judge had ordered the Oscar winner to increase his monthly child support payment to Oksana from $5,000 to $20,000, lawyers for Mel are so far refusing to hand over his hard-earned cash, until a dispute over the rent payment is settled in court.
In an exclusive video interview on Monday, Oksana's new attorney, Lisa Bloom, said: "He has a lot of excuses as to why he is not paying, but the bottom line is that, just like any ordinary person, who has to pay their court ordered child support, wealthy celebrities also have to pay it too. We are going to fight until Mel Gibson pays every penny of the court ordered child support."
Related Stories:
Article continues below advertisement