Exclusive
EXCLUSIVE: Joe Giudice's Mom Threw First Punch In NJ Housewives Brawl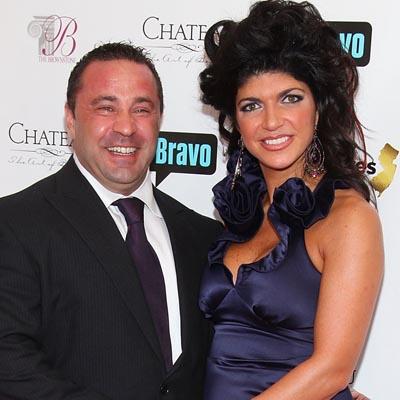 In a shocking development, RadarOnline.com has learned Teresa Giudice's macho husband Joe wasn't the one who put up his dukes first during the big brawl with his brother-in-law over the weekend. It was his mom!
"There were no punches thrown other than by Joe Giudice's parents," a source, who was at the baptism reception in New Jersey, told RadarOnline.com exclusively.
It all started at a baptism reception for the son of newest cast members Joey and Melissa Gorga. Joey's sister happens to be veteran housewife Teresa Giudice, who approached the Gorgas to congratulate them. Later, a verbal and physical argument ensued involving brother-in-laws Joey Gorga and Joe Giudice.
Article continues below advertisement
"There were rumors that Joe Giudice hit Joey Gorga and it's not true. He did try to swing at him but there were too many people holding them back so they couldn't get to each other," the eyewitness said. "Joe did not hit Joey Gorga."
Another source said Joe's mom picked up an object and came after Melissa and her sisters. The source added that the husband of one of the sisters was also punched. "He's okay," the source said.
Others have also agreed the altercation was "definitely" the Giudices' fault. "It was disgusting," another eyewitness told RadarOnline.com.
"We were all having a good time, it was beautiful, and all hell broke loose," the eyewitness said. "It got very uncomfortable and dangerous and we all left. It was a blatant disregard for children. It was just crazy, from the language to the gestures, the breaking of glass, cameras being smashed."
Article continues below advertisement
Eyewitnesses suggested that Teresa instigated an argument and was jealous of all the attention on her brother and sister-in-law, which was caught on camera for the next season of the Bravo reality show.
"All eyes were not on Teresa and it was obvious she couldn't handle it.
"It wasn't about her. She acted as plastic and fake as she normally was and she had her edge her way in there. She was warned to take her seat and she kept insisting and antagonizing."