EXCLUSIVE INTERVIEW: Charlie Sheen 'Bullet Proof Survivor', Says Notorious Ex-Madam Heidi Fleiss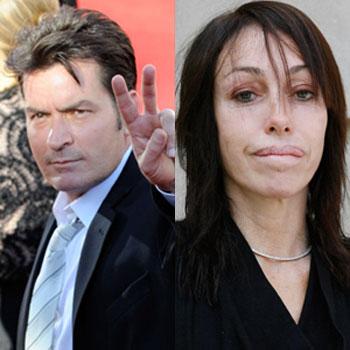 Hollywood hell raiser Charlie Sheen is a "bullet-proof survivor", according to the former madam who serviced his desire for hookers.
As Sheen prepares to check himself into rehab following his cocaine and hooker binge at The Plaza Hotel in New York, Heidi Fleiss believes that the Two And Half Men funnyman will quickly land on his feet again.
"Look, Charlie will be okay, he's a bullet proof survivor in fact," Fleiss told RadarOnline.com, in an exclusive interview.
Article continues below advertisement
"He's a smart guy - that's why he is the highest paid television actor in Hollywood."
RadarOnline.com revealed how Sheen is poised to enter Promises Rehab in California after he partied with a hooker on Monday night.
But the actor reportedly called police when he could not find his wallet, believing his female companion had stolen it.
The father-of-five was in the Big Apple with his former wife Denise Richards and their two daughters who were also staying at The Plaza during his latest crazy bender.
"He will check himself into a rehab and try and take care of his problems - I'm sorry that he has to go through all this bad publicity again," the former madam said.
"Obviously, I don't think there is anything wrong with hiring a hooker, as long as nobody knows about it, but it seems like this situation got out of hand.
"Maybe the pressure of being with Denise Richards got to him – that might have acted as a trigger – I mean she had an affair with her best friend Heather Locklear's husband Richie Sambora -- and that wasn't cool."
Article continues below advertisement
The Two and a Half Men star splashed-out over $50,000 in call girls being run by Fleiss and testified against her during her 1995 trial.
Tuesday afternoon Charlie was planning to fly back to Los Angeles and go into rehab.
He had not decided if he was going to do in-patient or out-patient treatment or when he would check in.
He is still on probation in Colorado stemming from domestic violence charges after an altercation with estranged wife Brooke Mueller.
The District Attorney's office told RadarOnline.com that unless Sheen is charged with a crime it is doubtful that a probation violation path would be pursued.
Sheen has not been charged with a crime.
Meanwhile, animal lover Fleiss is preparing to open a dog grooming spa in Last Vegas called First Pedigree next month.
RELATED STORIES:
EXCLUSIVE: Charlie Sheen Doing Cocaine For Days Before He Was Hospitalized