Exclusive
EXCLUSIVE: Biker TJ Lavin To Be Replaced With Cardboard Stand-In At Wedding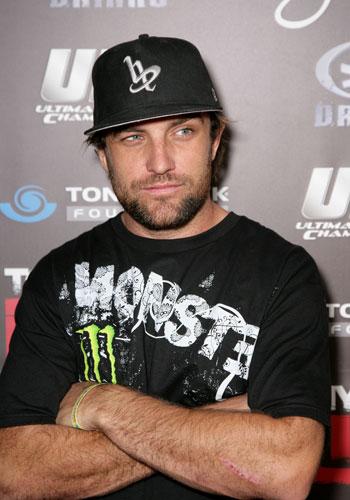 Family and friends of professional BMX dirt rider TJ Lavin have remained at the biker's side since he was hospitalized following a severe crash last week in Las Vegas, Nevada.
One of those friends – a childhood friend of the injured biker – is getting married this weekend and Lavin was to have been in the wedding. Sadly, he won't be attending.
RadarOnline.com spoke to Lavin's mom, Barbara who says that despite her son's recent improvements, he won't be able to physically attend the wedding but he'll still be making an appearance.
Article continues below advertisement
"He already has the tux but unfortunately, he can't be there so one of his friends came up with this great idea - they'll have a cardboard cut-out of TJ stand-in at the wedding. TJ would love that!"
Barbara tells RadarOnline.com that although her son remains unconscious, he has been removed from the ventilator and is now breathing on his own.
"They have a tube in his nose that pushes oxygen through but he's been taken off the ventilator and most of the drugs that have sedated him.
"He's still not completely opened his eyes but when he was asked if he knew why he was in the hospital he mumbled something that sounded like 'bike accident' so I know he knows what's going on."
The 33-year-old Las Vegas native suffered bleeding on the brain, a broken wrist and an orbital fracture following a crash at the Dew Tour Championships on Thursday, October 14.
Lavin had been in a medically induced coma to reduce swelling in his brain but according to his mom, the doctors have taken him off all the coma-inducing medications except one.
Article continues below advertisement
"They have him on one sedative still so he doesn't try to rip out his tubes.
"They put him in this 'Hannibal-Lector-looking' chair so they can sit him up and prevent fluid from getting into his lungs and he's constantly pulling at the Velcro straps. He managed to get one completely undone so the signs are there that he's moving forward in his recovery."
As RadarOnline.com first reported, Lavin was scheduled to have surgery on his shattered wrist this past Monday but the surgery was postponed after the biker developed a slight fever and pneumonia.
Barbara says it was 'a bit scary' because the doctors didn't know what was causing the infection and were treating him with all types of different medications without any results.
"The doctors didn't know where the infection was coming from and had TJ on all kinds of antibiotics. They were finally able to nail it down and now he's on the right antibiotics and his condition is improving."
Lavin's condition has been upgraded from critical to serious and he will remain at the University Medical Center in Las Vegas, Nevada.