Exclusive
EXCLUSIVE INTERVIEW: BMX Biker's Mom: 'It Was Supposed To Be My Son's Last Ride'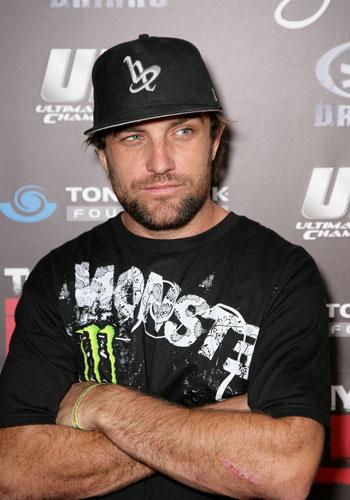 BMX rider TJ Lavin is in critical-but-stable condition at the trauma center of Las Vegas' University Medical Center on Friday, where he remains unconscious after suffering severe injuries during a Dew Tour Championships qualifying event Thursday, his mother told RadarOnline.com exclusively.
Lavin, 33, tried to execute a move called a "nac nac combination" over a high dirt hill when he lost control of his body and bike, careening into the ground.
Article continues below advertisement
In an exclusive interview with RadarOnline.com, his mother Barbara says that TJ remains in critical condition.
In addition to a possible brain injury, Lavin's mom says he's also suffered a shattered right wrist, broken right arm and fractured eye socket in the gruesome mishap.
Lavin was semi-conscious when officials retrieved him from the track, his mother said.
Barbara, who was at the hospital with her son early Friday, told RadarOnline.com it was going to be Lavin's final professional ride, as he'd complained of the injuries he'd been piling up on the circuit and was retiring.
Lavin made a name for himself with a series of high finishes in the X Games during the late 90s, parlaying his fame into a stint on MTV to host their Real World/Road Rules Challenge show for 10 seasons.
He's a Nevada native, and is also involved in composing music and a number of side businesses.
A family spokesperson is preparing to release more details on his conditions shortly. A rep for MTV tells RadarOnline.com: "Our thoughts are with TJ. He is an important part of MTV's extended family and we're all praying for him."