Exclusive
EXCLUSIVE: Anti-Obesity Group Defends Controversial Marie Claire "Fatties" Article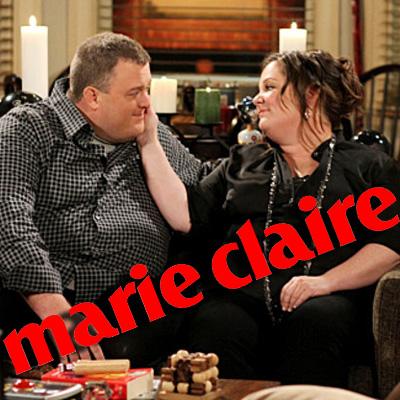 As the creator of Mike & Molly slams the blogger who said she was "grossed out" by the "fatties" on the hit CBS show kissing, the Action Against Obesity organization has weighed in on the controversy, exclusively defending the devisive blog to RadarOnline.com.
MeMe Roth, the president and founder of the organization, told RadarOnline.com criticism of the post, titled "Should "Fatties" Get A Room (Even on TV)?" is a double standard.
Article continues below advertisement
"If she had written the exact same article saying she was grossed out by two anorexics making out on TV everyone would have applauded."
Roth said Maura Kelly, the author of the blog that appeared on women's magazine Marie Claire's Web site, expressed feelings that are common in the United States. "She said what a lot of people feel and never want to admit."
"I think we all agree it was insensitive. She was being honest, she was being unguarded. Insensitive yes, her word choice was sophomoric."
Maura Kelly's blog said: I think I'd be grossed out if I had to watch two characters with rolls and rolls of fat kissing each other... because I'd be grossed out if I had to watch them doing anything. To be brutally honest, even in real life, I find it aesthetically displeasing to watch a very, very fat person simply walk across a room – just like I'd find it distressing if I saw a very drunk person stumbling across a bar or a heroine sic addict slumping in a chair."
Article continues below advertisement
Roth also slammed the hit show. "Mike & Molly is nothing more than a string of fat gags with a laugh track. It's a depressing and mean spirited show. Clichéd laugh gags with a fat track."
"The reality is we've normalized obesity, glamorized obesity. Eating yourself into organ failure is no more glamorous than starving yourself into organ failure."
She defended the hateful and mean spirited blog. "The fact that this writer was repulsed by seeing romance between two morbidly obese people is a primal instinct. She knows that morbidly obesity causes serious health issues. This is Darwin speaking, these are survival instincts that she's feeling that are driving this repulsion."
As RadarOnline.com previously reported, the creator of Mike & Molly Mark Roberts lashed out to Fancast.com about the post. "It seemed like something someone would say when they're really drunk at a party with their other hateful friends, but may be not good to write down and put it out for people to look at."
Maura Kelly apologized on the blog for her comments, saying she was a "former anorexic" and that she didn't mean for her post to bully overweight people.
Article continues below advertisement
Reports say Marie Claire has received over 28,000 complaints about the blog. MeMe Roth told RadarOnline.com the rage expressed by commenters are unfounded. "It doesn't mean we should call a witch hunt. If she had Facebook bullied them, egged the house, yelled at them on the school bus that is a bully, but she wrote an article her editor assigned to her. She's not a bully."
Related Stories:
Controversy: Marie Claire Fatties Story Slammed By Show Creator