CONTROVERSY: Marie Claire "Fatties" Story Slammed By Mike & Molly Show Creator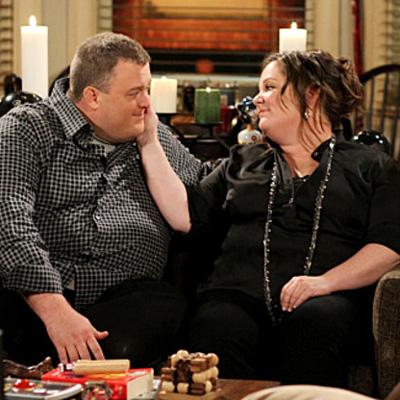 The hateful blog posted on women's magazine Marie Claire's Web site slamming the new hit TV show Mike & Molly with the title 'Should "Fatties" Get A Room? (Even on TV?)' has caused outrage and the show creator has slammed the writer of the article.
"It's something you would hear one of the really stupid girls say in a high school cafeteria," show creator Mark Roberts said in an interview about the controversy. Mike & Molly follows the lives of two overweight people who meet at an overeater's anonymous meeting and begin dating. The show stars actors Melissa McCarthy and Billy Gardell.
Article continues below advertisement
Roberts lashed out to Fancast.com about the story. "It seemed like something someone would say when they're really drunk at a party with their other hateful friends, but may be not good to write down and put it out for people to look at."
The blogger who wrote the article, Maura Kelly, is an admitted "former anorexic" and even the editor of the magazine defended her mean spirited post by saying she has had a life long struggle with weight.
"She was anorexic herself and this is a subject she feels very strongly about," Marie Claire editor Joanna Coles told Fashionista.com.
Maura Kelly's nasty blog wrote the following about a show she's never even watched:
"I think I'd be grossed out if I had to watch two characters with rolls and rolls of fat kissing each other... because I'd be grossed out if I had to watch them doing anything. To be brutally honest, even in real life, I find it aesthetically displeasing to watch a very, very fat person simply walk across a room – just like I'd find it distressing if I saw a very drunk person stumbling across a bar or a heroine sic addict slumping in a chair."
Article continues below advertisement
Maura's post has earned almost 2,000 comments and reports have said Marie Claire has received over 28,000 complaints and calls about the blog. The irate readers have slammed Kelly for her post. One wrote "Not only is your commentary offensive, hurtful and sadistic, but your "update apology" is lacking in any sincerity."
Kelly's description of herself on the blog speaks of a lonely person. "Although she's in her thirties, she's never been in love before — and has started to wonder if she ever will be. She's decided to start making dating her job if it's ever going to happen. Hence, this blog."
Since both Kelly and Coles have admitted they have never watched the breakout fan favorite show, Mark Roberts taunted the "former anorexic" saying he will send Kelly Season 1. "I might wrap some cotton candy around it and send it to her."
Kelly posted an update on her blog saying "I would really like to apologize for the insensitive things I've said in this post. Believe it or not, I never wanted anyone to feel bullied or ashamed after reading this, and I sorely regret that it upset people so much. A lot of what I said was unnecessary. It wasn't productive, either.
Article continues below advertisement
"To that point (and on a more personal level), a few commenters and one of my friends mentioned that my extreme reaction might have grown out of my own body issues, my history as an anorexic, and my life-long obsession with being thin. As I mentioned in the ongoing dialogue we've been carrying on in the comments section, I think that's an accurate insight.
People have accused me of being a bully in my post. I never intended to be that — it's actually the very last thing I want to be, as a writer or a person. But I know that I came off that way, and I really cannot apologize enough to the people whom I upset."