Chilean Miners Claim Company Disregarded Their Warnings Before Collapse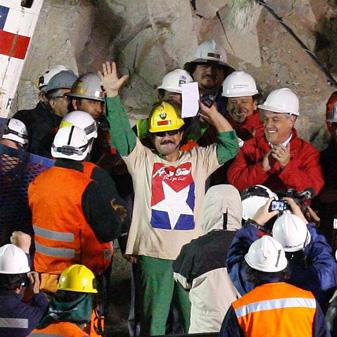 The Chilean miners - who were trapped beneath the surface for 69 days before their internationally televised rescue - had asked to be removed from their mine only three hours before it collapsed, RadarOnline.com has learned.
According to a declaration given to Dep. Carlos Vilches, a member of the investigating committee for the Chamber of Deputies in Chile, Illanes claims the miners heard noises from within the San Jose mine and told the managers that the creaking was stronger than usual.
Article continues below advertisement
Illanes claimed the miners asked Operations Manager Carlos Pinilla for permission to leave the mine but their request was allegedly denied.
Fellow miners Jimmy Sanchez and Omar Reygadas confirm Illanes' testimony.
The allegations made by the miners have led Vilches, who belongs to the ultra-conservative Independent Democratic Union (UDI) party, to ask the miners to testify before a committee in early November.
"When the mine makes a sound, it serves as a warning," said Vilches, a metallurgical engineer by profession. "Faced with these warning noises, the San José mine owners should have taken all measures to safeguard the mine."
VIDEO: Cameras Capture Smiling & Singing Miners Trapped 2,000 Feet Underground
Cristián Barros, an Interior Ministry adviser who participated in the rescue said, "The opinion of experts from CODELCO the state-run copper company is that there were signs that a collapse could happen."
Article continues below advertisement
The workers reported the mine creaked all night, but claim the head of operations forced them to enter the 2040 ft deep shaft despite their concerns and warnings.
VIDEO: King Luis: Heroic Chile Mine Leader Last One Up
The August 5, 2010 collapse is reportedly not the first incident to occur at this mine.
According to a Chilean newspaper, mine owner San Esteban was fined 42 times for safety violations between 2004 and 2010.
And in 2006 alone, there were 56 accidents that resulted in 182 injuries and two deaths.
More recently, on July 3, a slab of rock fell on worker Gino Cortés, and his leg was later amputated as a result – the mine's owners are in the middle of a court case over this accident
Prosecutors in Chile say they intend to have all 33 workers testify before Congress regarding the mine's conditions.
Related Posts: