VIDEO: King Luis: Heroic Chile Mine Leader Last One Up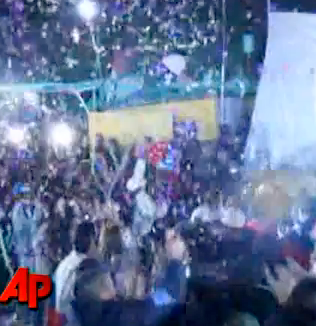 They saved the best for last.
We're talking about Luis Urzua, the last of the 33 Chilean miners to be rescued late Wednesday, as RadarOnline.com has learned the 54-year-old shift commander is being hailed for his leadership and poise in keeping his men focused and composed in what looked to be - literally - the gravest of scenarios.
Evidence of Urzua's leadership of the miners -- who range in age from 19 to 63 -- include his organization, communication with officials, and selflessness, as the nine-week nightmare concluded with his safe arrival via capsule from half a mile underground.
Article continues below advertisement
"You have been relieved, coming out last like a good captain," Chile President Sebastian Pinera told the fearless foreman following his rescue. "You have no idea how all Chileans shared with you your anguish, your hope, and your joy.
Dramatic Rescue Of Chilean Miners
"You are not the same, and the country is not the same after this," Pinera said. "You were an inspiration. Go hug your wife and your daughter."
The miners had been stuck underground since the August 5 rock collapse, barricaded by 700,000 tons of rock, and unable to establish communication with the outside world for the first 17 days. The men survived off a 48-hour emergency food supply for more than two weeks, consuming a teaspoon of tuna and a tiny sip of milk every other day.
VIDEO: Cameras Capture Smiling & Singing Miners Trapped 2,000 Feet Underground
Officials say the miners are in surprisingly good shape, although some have pneumonia, and some will have to have teeth pulled. All were taken to the hospital for check-ups, and some are expected to be released Thursday.
The miners were rewarded with a plethora of gifts upon their return above ground. Among the well-deserved windfall included soccer tickets, Mediterranean vacations, iPads, cash, and even a trip to Elvis' home, Graceland.