Dramatic Rescue Of Chilean Miners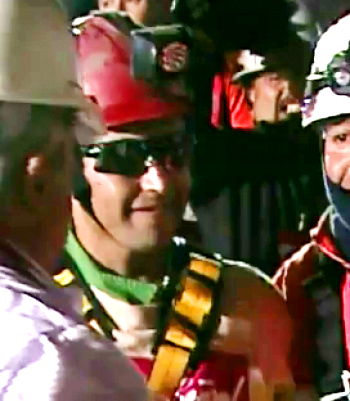 A 36-hour rescue mission for the 33 Chilean miners stuck underground for nine weeks was underway Wednesday, and as of 5:51pm PST all 33 miners have been brought to the surface and re-united with their love ones.
Watch the video on RadarOnline.com
Florencio Avalos was the first of the miners -- who range in age from 19 to 63 -- rescued Wednesday, as the capsule brought him 2,040 feet to ground level -- a distance comparable to two Eiffel Towers stacked atop one other.
Article continues below advertisement
"I think I had extraordinary luck... I was with God and with the devil -- and God took me," said Mario Sepulveda Espina, the second miner brought above ground, following his rescue.
The miner have been stuck underground since an August 5 rock collapse, and could not establish communication with anyone for 17 days.
Across the entertainment community, stats such as Kim Kardashian and Justin Bieber Tweeted messages of hope and support toward the miners and their families.
Bieber wrote he "just found out the miners of chile are being rescued!!! happy for the families being brought back together. miracles do happen," while Kardashian said she was "seriously in tears watching this Chilean miners getting released on CNN! What a tough struggle they made it through!!!"
Mel B wrote, "Omg watching these guys get released is sooo amazing!! Chile miners resue live!!!!!"
Nicole "Snooki" Polizzi wrote on twitter, "Wheww Chile we finally got our miners out!! I think this calls for #fistpumps via house music!!"