VIDEO: Joaquin Phoenix Apologizes To David Letterman For Bizarre Appearance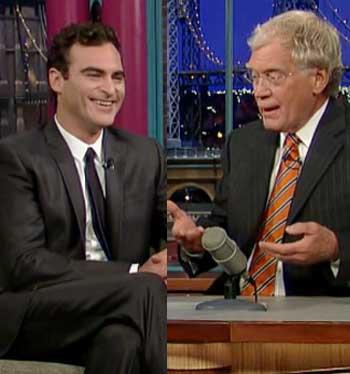 A clean-cut Joaquin Phoenix apologized to Late Show host David Letterman Wednesday for his bizarre appearance on the program last year, which was intended for I'm Still Here, a mock documentary about the Walk The Line star quitting acting to become a rapper.
Watch the clip on RadarOnline.com
A disheveled Phoenix appeared on Letterman's February 11, 2009 broadcast and ranted incoherently about his rap aspirations. On Wednesday, Letterman told Phoenix his behavior was "like you slipped and hit your head in the tub."
Article continues below advertisement
Letterman repeatedly had the two-time Oscar nominee testify that he had no knowledge of Phoenix's facade, or the film.
"You've interviewed many, many people and I assumed that you would know the difference between a character and a real person, so ... but I apologize," Phoenix said. "I hope I didn't offend you in any way."
Letterman at first accepted the apology, as he said he welcomed the comedic goldmine a dazed and confused Phoenix presented while on his couch.
"We'd hoped to come on a talk show, and I was looking for a beat down, and I got one ... I want to thank you for that," Phoenix said. "I was eager to thank you for the opportunity and I was really eager to get off the show."
Later on in the show, things got a little uncomfortable when Letterman mused "somehow I get the sense that I had been made a fool of" -- and that he wanted $1 million for his inadvertent contributions to Phoenix's "theatrical ruse."
Article continues below advertisement