David Letterman Knew Joaquin Phoenix's Bizarre Behavior Was Fake, Late Show Insider Says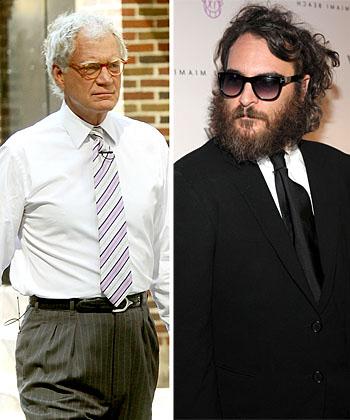 On Thursday Casey Affleck fessed up to what many already believed: his brother-in-law Joaquin Phoenix's bizarre behavior on The Late Show with David Letterman last year was all an act. But Affleck, who has directed a documentary about Joaquin, insisted that only he, the actor and the actor's agent really knew what was going on.
Not so, RadarOnline.com has learned.
Late Show writer Bill Scheft told Nuvo magazine, "Dave knew about it, and Dave loved it because he could play along…it was great television."
Article continues below advertisement
Scheft actually made the assertion to the small magazine late last year but his claim was largely ignored.
He said at the time, "I've told people that everyone is in on the joke, and not only don't people believe me, they tell me that I'm wrong and that Phoenix is a schizophrenic and he needs help and he's going to end up like his brother River, who died of a drug overdose in 1993. I said no. I saw the segment notes. It's an act. I saw Ben Affleck's brother taping the whole thing from offstage."
In light of Affleck's admission that it was all an act, Scheft's claim about Dave being in on it has taken on new credibility.
"I'm Still Here: The Lost Year of Joaquin Phoenix," is the name of the Affleck docu. The actor-turned-director is being sued for sexual harassment by two women on the film's staff.
It should all make for more "great television" Wednesday night when Phoenix again appears on The Late Show.