Exclusive
EXCLUSIVE: Female Film Editor Defends Casey Affleck Against Sexual Harassment Claims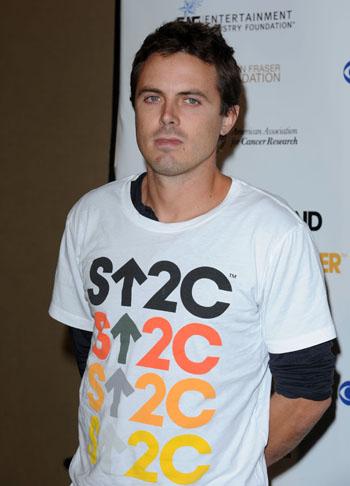 As Casey Affleck battles two sexual harassment lawsuits from his work on the upcoming Joaquin Phoenix documentary I'm Still Here, another female crewmember on the project came forward in the actor's defense on Wednesday. In an exclusive statement to RadarOnline.com, Peggy Eghbalian lends her support to the actor-director, praising his work and calling her time on the film "a great experience."
"I have never witnessed him do or say anything derogatory toward women, and nobody working on the film ever indicated to me any form of lack of respect, especially sexual harassment, that may concern him," said Eghbalian, who has worked on high-profile projects before including New York, I Love You and Along Came Polly.
Article continues below advertisement
Casey Affleck Hit With $2 Million Sexual Harassment Lawsuit
EXCLUSIVE DOCUMENTS: Casey Affleck Being Sued For Harassment By Second Woman
In the multi-million dollar lawsuits, cinematographer Magdalena Gorka and producer Amanda White claim Affleck, 34, engaged in harassing behavior and refused to compensate them for their work when his alleged abuse forced them to abandon the movie. In her filing, White also claims the actor (who is directing the documentary starring his brother-in-law Phoenix) used the documentary as a premise for his harassment: she cites one incident in Las Vegas during which Affleck invited the women to his and Joaquin's hotel suite where several prostitutes, including male transvestites, were procured for an alleged evening shoot.
EXCLUSIVE: Jessica Alba, Casey Affleck Defend Gruesome Violence In Their New Film
"White was not aware of what Affleck planned for that shoot," the complaint read. "None of the footage was used in the final cut of the film I'm Still Here: The Lost Year of Joaquin Phoenix...Affleck encouraged and participated in the harassment of White and Gorka for his own twisted gratification; indeed, on information and belief, virtually none of the acts complained of herein are contained in the film that will be shown to the public." White previously worked with Casey and brother Ben Affleck on Good Will Hunting.
Article continues below advertisement
However Eghbalian, who worked with Gorka and White on the film, fires back at the claim, saying she never came across any such footage: "As one of the editors who worked with Mr. Affleck on the film 'I'm Still Here,' I have watched hours of footage, and none of it shows Casey engaging in any inappropriate conduct.
"In my regards, he has always treated me professionally and respectfully."
Eghbalian also reaffirmed Casey's previous image as a devoted father and husband. Affleck married Joaquin's sister Summer in 2006 and the couple have two children together.
"Casey is someone who loves his wife and adores his children," she added. "These allegations are simply not characteristic of the person I know. I had a great experience working with him collaboratively throughout the process, and admire his hard work as director, handling his film with professionalism and dedication."
I'm Still Here opens in theaters on September 10.
Another female editor on the film, who wished to remain anonymous and worked with Casey for almost two years, said she is shocked by the allegations. "I cannot fathom any of these claims of sexual harassment being true...Regardless of where we worked, including in private homes and non-commercial facilities, Casey maintained the utmost level of civility. While the project contains some strong material, Casey was far too busy working to execute his unique artistic vision to engage in any inappropriate behavior. He treated me and the other women who worked on our team with total respect. It was an honor and a privilege for me to have had the opportunity to work with him."