PHOTOS: J-WOWW Shows Off Bangin' New Body In Sin City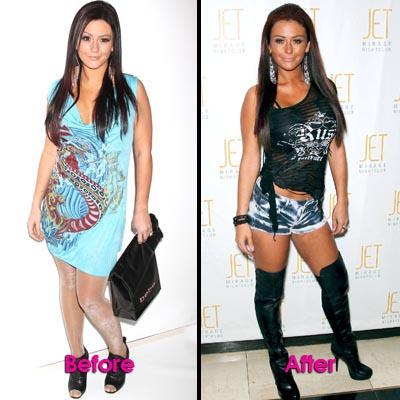 They don't call her J-WOWW for nothing!
With a reported $400,000 offer from Playboy on the table the Jersey Shore pin-up Jenni "J-WOWW" Farley showed off her fab new figure in Las Vegas this weekend, and RadarOnline.com has the sexy shots.
The reality star – who usually displays her fuller curves in tight fitting clothes – looked as if she has shed several pounds as she hosted a party at Jet Nightclub on Friday night.
Article continues below advertisement
The sexy brunette flaunted her slimmer shape as she sported bleached short-shorts, thigh-high leather boots and an off-the-shoulder black top.
The 23-year-old Guidette seemed thrilled with her new look, and it seems that she has been hitting the gym and improving her diet too.
J-WOWW has been considering a slew of offers and there have even been rumors that there could be a spin-off show with her cast mate and best friend Nicole "Snooki" Polizzi.
Snooki said: "It would just be us living together and trying to make a living."
And even her Shore nemesis - cast mate Sammi Giancola - is also backing the bombshell brunette if she opts to shed her clothes for Playboy.
"I would I never do that. No! but if Jenni wants to do Playboy go ahead. Do what you want to do," she revealed.
And if J-WOWW continues to look this good Playboy might even have to up their offer to get the reality star to reveal her bangin' new body.